Hello and welcome to my review for the DeLonghi Magnifica S Coffee Machine. Let me tell you right away that this is a great coffee machine.
I have had it for around 2 years now and I am very satisfied with the coffee it makes whether it be an Espresso, a regular coffee (Americano, Long cup), or other types of milk coffees (Cappuccino, Latte, Macchiato).
Delonghi Magnifica S Coffee Machine Review (Pros & Cons) Loud and Slow?
First of all, you should know, that I am a huge coffee lover and drink plenty of cups of coffee every day.
I get my coffee from a lot of different places and machines every day, and if you like a good cup of coffee a Delonghi Magnifica S Coffee Machine is a good place to start. It actually makes good coffee.
Last update on 2023-09-09 | *Contains Affiliate links | *Images sourced from from Amazon
Before going any further let me assure you that I am a huge coffee lover and get my daily doses of coffee from several places including the Magnifica S.
To start off, let me briefly introduce you to the DeLonghi Magnifica series. Magnifica is DeLonghi's entry-level model for automatic espresso machines.
The DeLonghi Magnifica ESAM 3300 is the most economical and basic model, followed by the Magnifica S & XS ECAM 22110. The Magnifica S Smart is the next most configurable of all the devices in this lineup.
All models have their own pros and cons but enough of that!
Let's get back to the Magnifica S. The DeLonghi Magnifica S is a semi-auto, single-touch, bean-to-cup machine. What this means is that it's automated as far as 'just coffee' is concerned, but if you want to introduce milk into your drink, then the machine does not do it for you.
But, hey, that's not to say it doesn't help you with that. In fact, the manual steamer (milk foaming) option on this machine is absolutely wonderful. It is one of the reasons that I would recommend you to go for this machine rather than those fully automatic milk coffee makers.
Product Specifications
| | |
| --- | --- |
| Attribute | Specifications |
| Dimensions (W x D x H) (mm) | 230x430x340 |
| Weight (Kg) | 9 |
| Pump pressure (bar) | 15 |
| Beans container capacity (g) | 250 |
| Water container capacity (l) | 1.8 |
| Grounds container capacity (n) | 14 |
| Energy class | Better than A |
| Max cup height (mm) | 142 |
| Input power (W) | 1450 |
| Rated voltage/Frequency (V~Hz) | 220-240 V / 50-60 Hz |
Features
The DeLonghi Magnifica S comes with some great features which are listed below.
Design and Compactness
The sleek black design of the Magnifica S makes it an excellent fit in any setting. Be it the living room, a kitchen counter, or some casual office space, this machine will not look out of place.
Its curvaceous finish makes it very pleasing and aesthetically comfortable in all kinds of environments.
Weighing just around 9 Kg, it's quite easy to move around if needed.
All functionality buttons are normally placed and easy to access. With good even spaces between buttons, you won't have to worry about pressing the wrong button while making your favorite coffee.
Grinding Technology
The DeLonghi Magnifica S espresso machine features an integrated conical stainless-steel burr grinder linked to a top-loading bean container that holds 8.8 ounces of fresh coffee beans.
Featuring 13 unique grind settings that make DeLonghi a plus above the rest.
There are machines that cost twice as much, or even three times as much, and only have five or six distinct grind settings.
This feature alone will pique the curiosity of coffee purists as finding the ideal grind setting is crucial to producing a delicious cup of coffee.
As everyone's tastes and preferences vary, the more grind settings you have, the better you'll be able to tune in to your specific flavor preferences.
Brewing Unit Controls
When it comes to working, super-automatic machines are all about pressure. It takes at least 9 bars of pressure to make a nice espresso, which means you won't have any issues with the DeLonghi Magnifica S automatic coffee machine's rated pump strength!
There are seven buttons, one control knob, and a lever on the front control panel that allows you to choose between steam and hot water.
Despite the fact that the display panel is a simple LED, the machine's straightforward design allows you to swiftly and simply navigate to the numerous control settings.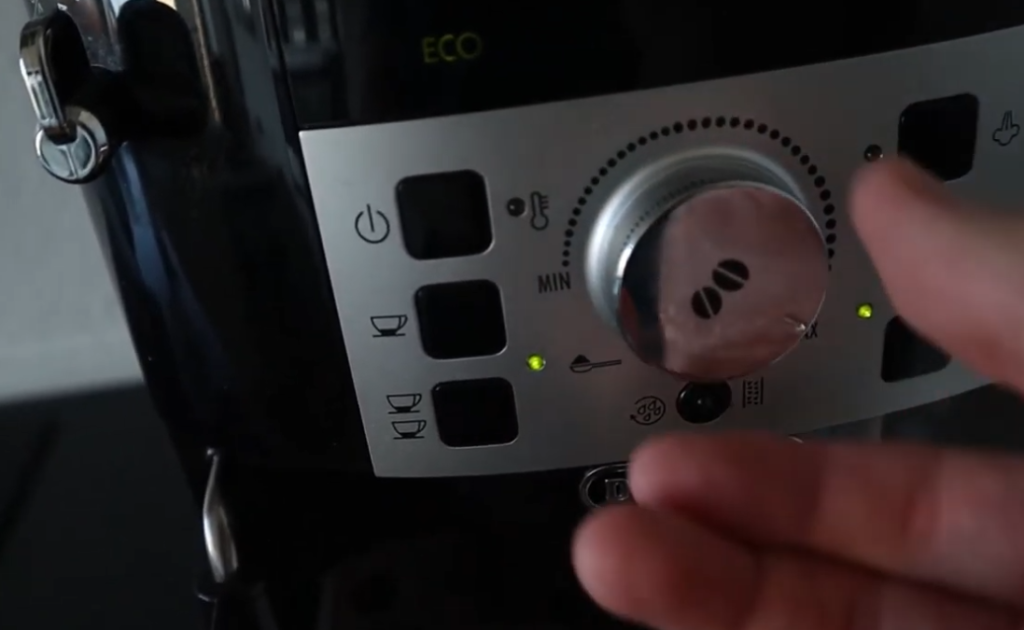 You may access the automated cleaning processes and reset the machine to factory settings, in addition to adjusting essential settings for whichever type of drink you're producing. The auto-shutoff time, which is hard-set at 4 hours, is one thing you can't change.
The brew unit is removable, as is the case with all other DeLonghi machines, and should be removed once a week for a thorough cleaning. The brew pump on the device is rated at fifteen bars, however, that fact necessitates a brief explanation of how espresso is created.
You're probably using a drip-brew coffee machine right now if you're fresh to the world of specialty coffee drinks. Gravity is used to transport water from the grinder to your pot or cup in these machines.
Since the brew unit is removable, make sure to take it out once a week for a thorough cleaning.
Water Reservoir
This constitutes one of the most important aspects of a coffee machine review.
Neither too bulky nor too less, the Magnifica S has a 60-ounce water tank despite its compact size. I found out that while this is not the largest water tank on the market, given the machine's overall proportions, it is a pleasant surprise.
The water tank is front-loading, which means, even while refilling it frequently, it's easy to use. A water filter can be used if needed, as the tank is intended to accommodate one.
On this subject, people have differing opinions. Though, I must say, making use of a filter will reduce the amount of maintenance you have to do because descaling will be almost eliminated with fewer chances of limescale building up on the machine components.
Boiler System
The DeLonghi Magnifica S model has a single boiler that uses Thermoblock technology to provide efficient and quick heating.
The biggest outcome from this is that you can't steam milk and brew coffee at the same time, which means you'll have to wait for the boiler to regulate its temperature when you move between the two. It's not a big concern because the delay is measured in seconds rather than minutes, but it's something to keep in mind.
Coffee Spigot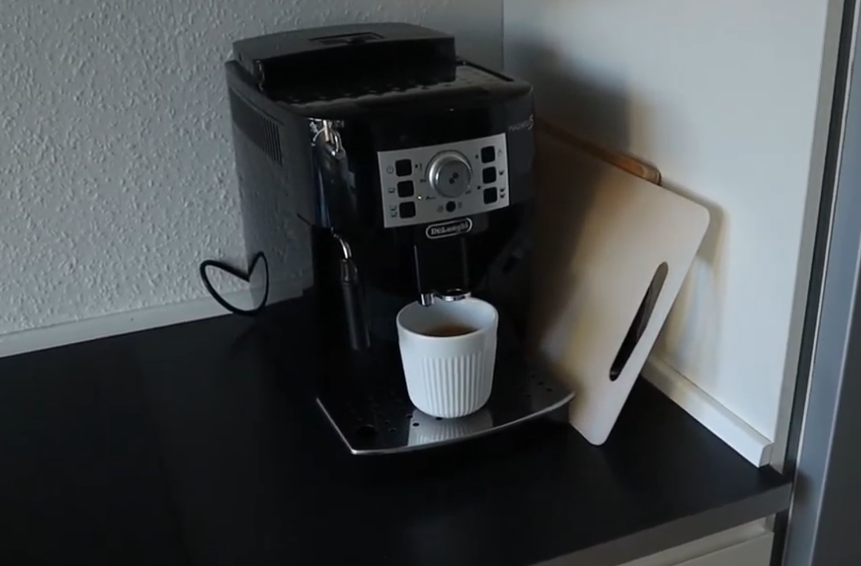 The coffee spigot or dispenser (spout-like contraption emerging from the center of the DeLonghi Magnifica) adjusts in height to fit mugs up to 5.5″ tall. Although this isn't quite big enough for enormous coffee mugs, most people won't face any problems.
The space between the two nozzles is wide enough so as to 'just' accommodate two cups side by side once you select the double-cup feature.
Just as a heads-up, you might want to consider practicing making two cups simultaneously, before actually planning on making one so that you avoid any coffee wastage.
Milk Frothing Controls
One of the best-selling features for the Magnifica S is its Pannarello or frothing wand or steam wand, however, you want to call it.
I think it would be right to mention here that for milk specialties, a good steam wand can make all the difference. Coffee enthusiasts that prefer to drink either Cappuccino, Cafe Latte, or even Latte Macchiato are very particular about the thickness and type of foam they have in their cups.
DeLonghi has therefore made sure to deliver a high-quality frothing wand. Not only does it take less time, but it also gives a super thick foamy texture (with the Pannarello on).
I found out that 200ml of milk only took a short while before reaching a consistent thickness.
Of course, this depends upon what type of thickness you prefer.
It's true that mastering the wand takes time and effort, but don't let that deter you! Consider it an invitation to unleash your inner barista! Don't be surprised if your first few milk-based drinks don't turn out as planned.
Just keep practicing, and before you know it, you'll be a Master of the Frothing Wand!
Easy Maintenance
If you assembled the Magnifica S by yourself, you would remember how easy it was to install it by following the instructions. Conversely, the components themselves are very easy to disassemble and clean. The water dispenser tray, the coffee puck waste unit and the water tank all can be taken out and cleaned individually.
DeLonghi has made sure that you keep your machine well maintained at all times (ahem ahem, someone doesn't want you to replace your coffee machine down the road 🙂 )
They have ensured this by providing features that prompt you when the machine requires cleaning.
One such feature is the red 'bobber' (as I would like to call it) at the bottom of the dispenser tray. When the water level inside reaches a maximum, the red knob floats up and is visible through the stainless steel cover, informing you to empty it out.
Another indication for cleaning the machine is a blinking light on the front button panel. When the red light starts blinking, you know that it's time to clean your Magnifica.
In fact, DeLonghi has gone one step ahead and made a series of videos that showcase how to clean your coffee machine properly. How cool is that?
Something of Interest
I found out that the Magnifica S comes with something that is very interesting: A cup warming tray!
Many people who are new to the world of specialty coffee drinks overlook the value of a cup warming tray. You must not do so! If you're used to drinking coffee from a drip-brew machine, one of the first differences you'll notice is that the drinks produced by this machine are significantly cooler.
This is especially true of milk-based coffee drinks because the milk must be steamed at a lower temperature to avoid destroying the flavor of the milk, and the temperature drops, even more, when the milk and coffee are combined.
If you pour your drink into a chilly cup, you will lose even more heat. The cup warming tray comes in handy in this situation.
The tray sits on top of the DeLonghi Magnifica. It is gently heated with heat from the boiler. It has a rough surface that aids in keeping the cups in place while they warm.
When you switch on the machine, the surface begins to warm up, so simply place your cups there while you finish your initial preparations, and you're ready to go.
DeLonghi Magnifica S Coffee Machine – Useful Tips
Following are some tips that I experienced that are good to know when you're using your Magnifica S coffee machine:
First off, make sure not to use oily coffee beans for brewing. They don't do too well with semi-automatic machines that much. Apart from losing the flavor, the residues left over from such beans are sometimes tricky to clean. Find a good Medium Roast that you prefer and stick with it.
Another thing that I found is that although the company doesn't recommend it, you can also wash Magnifica's components inside a dishwasher and there won't be any side effects. Of course, your dishwasher itself has to be properly maintained as well.
Lastly, the frothing wand also works as a hot water dispenser, allowing you to prepare hot chocolate and tea for that unique guest that just won't have coffee today!
Pros
There are some excellent pros that come with this machine:
The Magnifica S grinds the exact amount of beans for every coffee cup that you make. So not only is it a fresh flavored cup every time but with the same consistent quality.
The coolest feature of this model is the Coffee strength knob. You decide how much caffeine you would like in your cup. The Magnifica shall grind that amount of beans for you.
Unlike some other machines, this one also supports ground or powdered coffee. So if you happen to run out of beans and have powder at home, you can still brew a good coffee.
The steam pipe inside the pannarello is quite long. So, unlike those machines whose pipe barely reaches the surface of the milk jug, the Magnifica has a good length that reaches in quite well.
You can make two cups of coffee at the same time.
It is easy to use and have an easy cleaning milk container
See how it works in my YouTube video.
Overall it is a great coffee machine, easy to manage, cheaper than bricks coffee makers, and we are really happy with the purchase.
Cons
Following are some of the cons of the DeLonghi Magnifica S:
For starters, it's noisy!
Every time you turn on the machine and when you brew a cup, the grinding and component cleaning noise is pretty decent. For some, this might not be a con but for me, personally, it is.
As the machine has a self-cleaning feature, it uses up lots of water. Hence every time you turn your machine on, you are in fact wasting water.
The thing I don't like the most is that the water capacity on this machine is small. I have to refill the reservoir tank several times in order to get through a single day.
Also, if you do not program it manually, the machine doesn't make a full cup of coffee. You have to brew it twice to get a decent-sized drink.
Lastly, I found out that the coffee strength is halved if you brew it from the "double cup" option. I figured it out by the amount of time it takes to grind a single cup and a double cup. It's nearly the same. So if you're saving time by making two coffees simultaneously, I recommend you rather not.
It is very noisy because it is grinding the beans. It can both be a pro and a con. But if you don't like the loud noises in the morning, if you are in a library or a workspace where you cannot make too much noise, this machine is not the one to buy.
As I said it is cheaper than the Nespresso machines where you have to buy the bricks, but it is more expensive than a regular coffee machine.
Bonus info
I thought for a long time that I could not adjust the volume in my coffee cups, but a comment from YouTube helped me to figure out, that you can just hold on to the button a little longer before releasing, so you can reach your desired amount of coffee. How cool is that? 🙂
Conclusion
Delonghi Magnifica S Coffee Machine makes great coffee and it is pretty fast, easy to clean and you can make two cups of coffee at the same time. It is a bit too noisy to my taste, but overall I have been very happy with this machine in the past two years.
…