Hi' I have the SECRET LAB Magnus Desk to my productivity desk setup.
Now doesn't it look fantastic?
Here is a video of my Productivity Desk Setup
I have been looking at this desk for a long time.
So I doubled down, and bought two of these.
⭐⭐⭐ 3 of 5 stars
I can't give this desk a whole 4 stars. Because of some mistakes with the table and SECRET LAB as a company.
Keep reading, I'll tell you everything.
I have to tell you this desk is not at all perfect.
… and more importantly, I have to tell you about my shopping experience with the SECRET LAB company.
You wont get this information from the YouTubers' who got the desk for free
Why I bought it:
The reason that I bought two of these, is that they are replacing one long 3 meter desk.
I was using the extra space for top-down photos, and right now my son to sit next to me, and we are gaming and streaming on twitch.
Product Specifications
| | |
| --- | --- |
| Attribute | Specifications |
| Desk Size | 1.5m |
| Height | 29" / 735mm; Extendable by up to 0.8″ / 20mm |
| Max Load | Tabletop: 220lbs / 100kg | Rear cover: 55lbs / 25kg |
| Package Size | 63" (L) x 27.5" (W) x 7" (H)1605mm (L) x 700mm (W) x 175mm (H) |
| Cable Management Tray | Yes |
| Weight | 92.6lbs / 42kg |
| Assembly | Tools Required: Screwdriver with M3 and M5 reversible bitM3 Allen keyM5 Allen keyThey're all included in the assembly kit |
| Construction | Tabletop: MDF with steel rear cover: MDF with steel |
| Warranty | 5 years |
Short: What is the Secret Lab Magnus Desk?
SecretLab Magnus Desk is a sturdy and functional, adaptable desk space for gamers and creatives that saves them space.
The key feature is the built in cable-management.
The 1.5-meter SecretLab Magnus Desk is priced at $499.
While it is cheaper to buy a desk at IKEA. This desk pricing is still lower than the sit/stand-desks from many office and gaming companies.
The desk alone is pretty pricey, but the add-ons which make the desk more user-friendly, are all priced differently, so all in all the price goes even higher than that.
Easy Assembling The Secretlab Magnus Desk
The package-design of the Magnus desk is very highend.
I feel like, a part of what you are paying for, is the package design, and the easy-to-assemble table.
The packaging is all in all pretty admirable and manages to make you feel as if you got your money's worth.
When opened, the box consists of packs containing the legs and surface of the table along with some accessories. The building tools included cable fasteners, two different sizes of wrench, and a magnetized hex wrench. All these are labeled in a neat tools box.
The down side is that – I have NEVER seen so much cardboard in my life. :O this is not what you define as an environmentally friendly product – at all.
All the legs, and parts are very protected.
The overall assembling was pretty easy. I'd say if you've set up Ikea furniture at least once in your life then setting up the Secretlab won't be an issue. – Its much easier than IKEA
A desk was assembled in hardly half an hour. Although, keep in mind this table is VERY HEAVY so having two people turn the finished product over would be the wisest choice.
Laying Down The MAGPAD – leather surface
Finally, after you've flipped over the table and it's finally standing on its steady feet, there's still one last step to do before your table becomes fully functional. And that is laying down the MAGPAD.
This is a 1.5 meter long cover of sorts that is laid on the tabletop. Now one great quirk about this is that it's got a magnetic base meaning, that once it's stuck on it's not going to move an inch.
To make matters even easier, the MAGPAD comes in a roll. This makes easy application of the cover. All you have to do is to pull the tassel from the roll and at the corner of the table, magnetic strips will help keep it in place. All you have to do is make sure it's aligned.
Now it may seem easy but oftentimes it can be the most challenging part of the entire setup. It just so happens that the MAGPAD is very tricky to get right despite its magnetic latch.
This is because if you somehow get the alignment wrong you'll have to redo the entire thing all over. So one must have patience while doing so. Personally I found it very easy – but people have complained about this.
NOTE: Over time, this pad will get greasy and attract a lot of dust. The black clean design of the desk needs a cloth now and then. It gets dusty!
Design Of The Secretlab Magnus
Like how everything has its association with a different aspect of an object's use; it's no doubt that the Secretlab Magnus was solely made for gaming.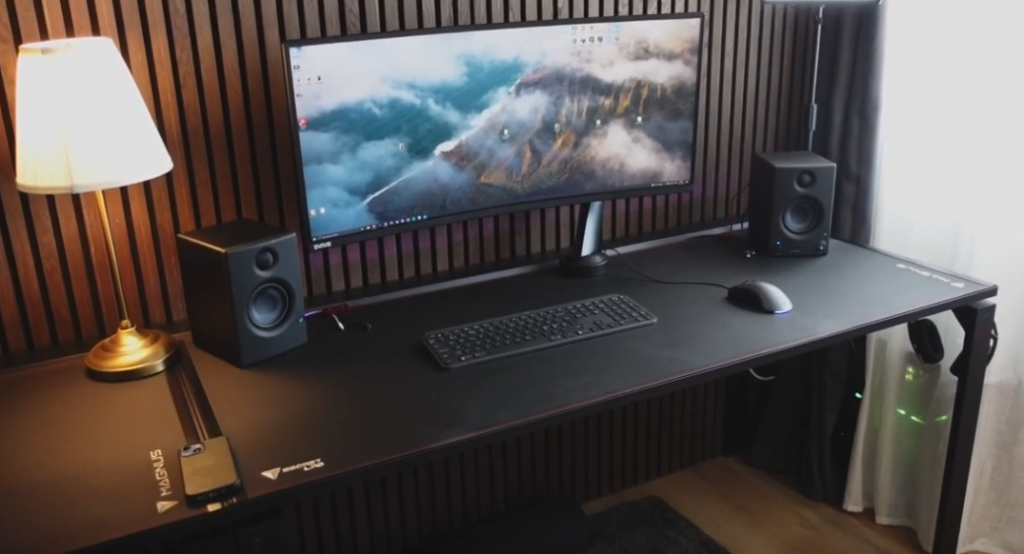 It's just the overall outlook that makes it painfully obvious that it's a gaming desk. But i personally like the design
The Magnus desk consists of four thinly cut legs and a smooth, milled top paired with red accents. This helps in making the table incredibly sleek and minimalist whilst also retaining its strength. The table is entirely made up of steel which helps keep its sturdiness.
Sitting at just 29 inches, the desk isn't that long which might pose an issue to relatively taller people.
For me this height is perfect – my previous table was too tall.
SECRET LAB are marketing this table as the "perfect height" and it is for me.
If this is not the perfect height for you, you are able to adjust about 2 cm.
It is not a sit/stand desk!
The Metal Structure Of The Desk
Just by maneuvering the packaging, you can conclude that this table is some solid stuff. It's made entirely of just metal, stainless steel to be precise. And it's honestly no joke. Trust me when I tell you this thing is heavy – i bought 2 of these bad boys! 😀
The desk's sturdiness speaks for its quality.
I can guarantee you won't find something like this on the market.
It's no joke as you need two people to pull it over the right way, otherwise you will put too much weight on the legs.
This table is immensely dense and firm, to say the least.
The table consists of hard stainless steel metal. It's safe to say that this is the hardest table in the gaming world. In no way would it seem like the manufacturer wanted to save money.
The hard metal helps keep it in place and provides anchorage so you can expect it to stay in place. It's nice to see manufacturers put so much heart into these products. The gaming community has been way too neglected.
If you are rage-quitter, this desk is for you.
but,
One of the biggest disapointments for me, is that the desk is wobbly.
NOTE: You Have to have the desk up agains a wall. It's a absolute must. Which is one of the key reasons, it can't score a perfect 5 stars.
3 Key Features Of the Secret lab Magnus Desk
What makes this desk different from all others are its three exceptional qualities.
#1: First, it has hidden cable management.
This is honestly a lifesaver and makes my work and gaming experience so much better. I don't have to worry about anything being messy and out of place which is a big relief.
#2 The custom RGB strip
you can mount this on the back in the hidden compartment.
This is equipped with over 90 different colors that can reflect against your wall. And trust me when I say this the end look is divine.
#3 Magnetic Accesories
Secretlab offer an assortment of tiny handles and magnets for the magnus desk that help keep everything in place.
These are brought separately from the desk but let me tell you, irrespective of the price they're honestly a joy to have. These all pile up to make my workspace ten times more neat and organized.
The Magnus Table's Industry leading Cable Management
Something I quite liked about the Magnus desk is its cable management. The inbuilt cable tray runs right along the bottom of the desk.
If you look closely you can see the compact tray that holds all the cables your devices contain.
In my tray, i also have a Scarlet 2i2 , all my power outlets, and a usb hub. So there is quite a lot of space.
This way, if I pull the tray from the back you can see all wires neatly hidden from plain sight. I can even access the wires to make any alterations from the back keeping the front nice and clean.
This makes my desk's outlook more prim and proper. It also reduces my risk of accidentally getting caught in the bundle of cables and messing up my setup – which happens more often than not.
DOWNSIDE of the RGB Strip Running Down The Tray
I bought an RGB strip to put on the inside of my cable tray.
However, I don't recommend this or, – if you do get it, then mount them on the backside.
The RGB strip makes the cables all the more visible which kind of ruins the tray's entire purpose.
If I or anyone else were to look at my desk they'd easily spot the bundle of cables tucked in the tray. It's not the best, but it does give my desk a cool "technoid" look.
NOTE: Get black cables and not white cables as i have, and then the cables will be quite invisible.
The RGB strip is a color-changing strip of light that can change into any color.
This strip is usually controlled by remotes or even phones. I bought this strip because it uplifted my desk's look at first glance. Plus, I can't deny it does look pretty tech-savvy.
The Multipurpose Use Of Secretlab Magnus Desk
This desk is not only a creative's dream come true because of how convenient and easy to use it is, but it also has multiple uses.
On the side of the desk, there's a magnetic hanger which I use to hang my headphones.
P.S. Here's a review of the Logitech Headset I have been using.
While I'm not using them, I can hang them safely and not have to use my desk space to keep them. This way I get to save space on the desk and also keep my headphones in one place. I tell you, I love this one.
Another lovely thing about this magnetic hanger is that it is removable and I can hang my accessories on the side, front, center, back, etc.
PRO & CONS: Owning The Secretlab Magnus Desk
The SECRET LAB Magnus Desk is far from perfect.
And i need you to tell you my experiences to make an informed decision while buying.
You won't get this info from all the creators who got this desk.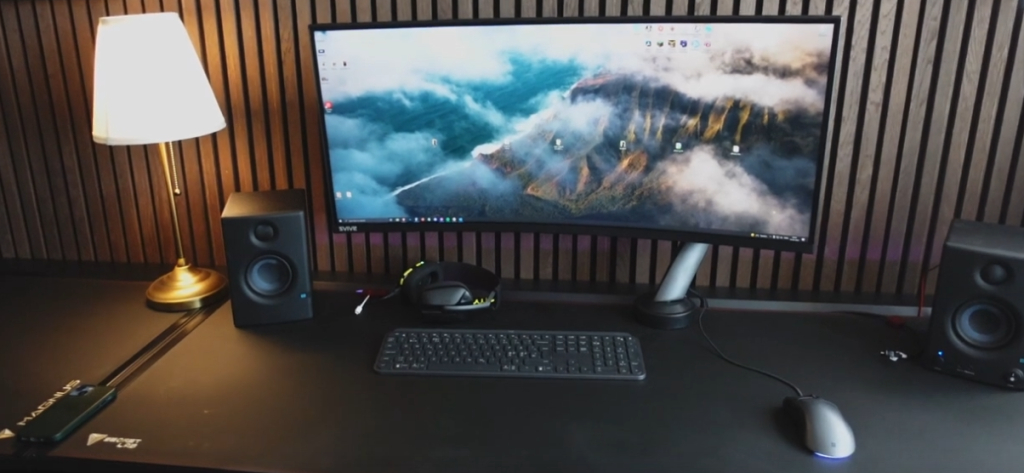 One of the reasons I even bought this table is because it's the perfect height. It's lower than my previous setup, which is good. FOR ME
Now I personally never used the sit-stand features on my desk.
Downside #1: Of the Secretlab Magnus Desk
The industry leading cable management tray makes it very hard to fit a monitor arm!
This issue is not to be taken lightly.
There is just not much room in the table-tray
And I am currently looking to buy a 2 monitor arm, but NONE of the manufacturers tell you the size of the "mounting screw" underneath the table.
BECAUSE: this is not a problem on all other desks in the world.
Many many of the monitor arms has a 4 inch screw, which is about 12 cm with the head and mounting plate.
But it has to be shorter than 10 cm or 100mm.
This narrows the field significantly.
The Elgato top down arm i was using, i can't do that any more.
I am currently waiting for my third monitor arm, to see if it fits.
I feel like if the tray where 15 cm tall and even slightly "deeper" all of this would be history. i dont get why the cable tray is so small.
Downside #2: of Buying only from Secretlab
I am working in tech-retail ecommerce in Denmark, in the company of avXperten and I am shocked of the service from Secret lab.
Dont misunderstand me! They are very nice!
But i waited forever on my tables. I have never ever waited so long for a delivery.
I ordered the tables and my accessories apart, and paid 2 times shipping, because the accessories were "not in stock" and i did not want to hold up my tables for the extra pieces.
Half of my accessory order arrived first.
The tables arrived very late.
And getting Secret lab to understand, and to trust that I was missing some of my order, took SO long, and I had to sign documents and so on telling them i was not lying.
We are talking about an cable hider for the legs worth $30 while my total order was over $1,100.
Why do you need to know this?
I went on reddit later on to see, customers who encounter actual problems with their products or having to return their products.
Secret lab takes forever! My experience lasted more than a month, and I cant even imagine how long it would take, to cover RMA or something like this.
There is even stories of Secret lab not wanting to help at all on reddit.
Beware.
Sadly it's not possible to buy their industry leading quality anywhere else, than directly from Secret lab.
And they know this, – so much.
Take this into account if you want to buy any of their products.
5 Pros Of the Magnus Desk
It has excellent build quality, and design quality which every streamer desires.
The cable management is SO good
When you purchase your personal Secret lab Magnus desk, you get a 5-year warranty. (OR SO THEY SAY)
Leatherette MAGPAD gives a smooth, modern look.
Very easy setup
9 Cons Of the Magnus Desk
Its quite expensive.
Even after getting the base model, the accessories on top are not cheap.
Very heavy table and needs two people to turn it over.
Buying directly from Secret lab is not a good experience (RMA might be MIA)
the cable tray makes monitor arms and elgato arms wuite hard to mount.
The Magpad gets greasy and dirty quite fast.
The setup attracts a lot of dust
Limited adjustments of height.
The desk is wobbly and have to go against a wall.
My Verdict: – ASK ME ABOUT THE DESK!?
It was the full-fledged review of my Secretlab Magnus.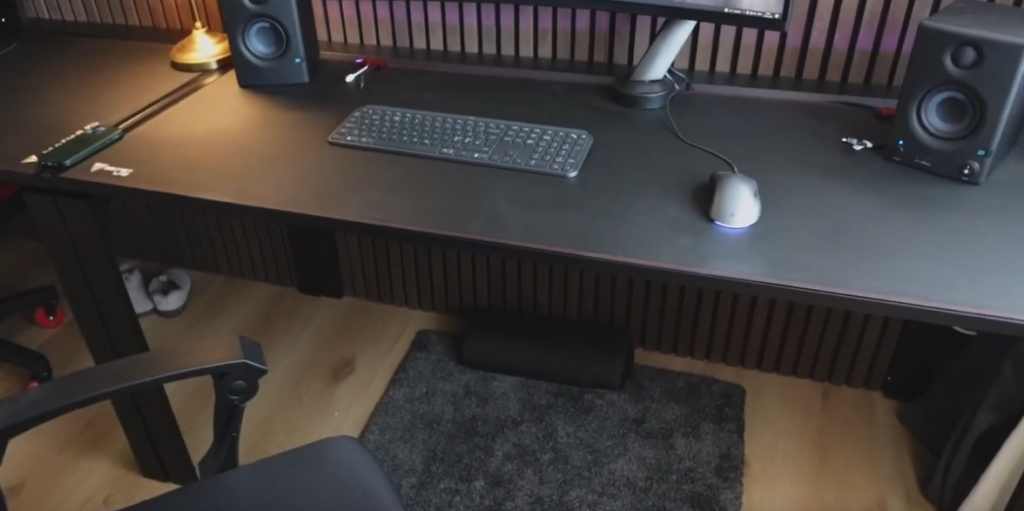 In the end, I would say, I'm quite satisfied with this table. Everything from its metal body to the numerous magnetic accessories makes it one of the best tables on the market.
I must add, however, that I was quite upset about the mounting issue but that's something I'll figure a solution to.
Overall I'm very satisfied with the table and its contents.
NOTE: If you have specific questions about the table. Write to me on youtube, click here on this video
If you made it this far, PLEASE consider subscribing to my YouTube channel as well.