Buck for buck this might be the best headset for the money right now
The Logitech G435 Lightspeed Wireless is a wonderful eco-friendly selection if you're searching for a compact, inexpensive, and comfy gaming headset. 
Comfort level is one the best headset ever.
Sound quality is good for gaming, but not great for movies and tv shows.
⭐⭐⭐⭐ 4 of 5 stars
I give this headset 4 out of 5 stars. Sound quality and battery performance could be better.
Keep reading, I'll tell you everything.
You know it could be a wonderful gift either for a gamer in the family
 Logitech G435 Product Specification
Sale
Logitech G435 LIGHTSPEED and Bluetooth Wireless Gaming Headset - Lightweight over-ear headphones, built-in mics, 18h battery, compatible with Dolby Atmos, PC, PS4, PS5, Nintendo Switch, Mobile - Black
Headphones fit type:Over-Ear.Frequency Response: 100Hz-8KHz
Total comfort: Breathable fabric earcups keep your ears cool during long play sessions, and the comfortable memory foam padding helps absorb sound waves to improve overall sound.Versatile: Logitech G435 is the first headset with LIGHTSPEED wireless and low latency Bluetooth connectivity, providing more freedom of play on PC, smartphones, PlayStation and Nintendo Switch gaming devices
Lightweight: With a lightweight construction, this wireless gaming headset weighs only 5.8 oz (165 g), making it comfortable to wear all day long
Last update on 2023-09-06 | *Contains Affiliate links | *Images sourced from from Amazon
| | |
| --- | --- |
| Attribute | Specification |
| Driver Type | 40 mm |
| Impedance | 45 Ohms |
| Frequency Response | 20 – 20,000 Hz |
| Microphone Type | Dual-beamforming on-cup; 100Hz – 8,000 Hz frequency response |
| Connectivity Options | Lightspeed wireless (2.4 GHz USB Type-A dongle), Bluetooth |
| Cables | USB Type-C to Type-A charging cable (6 feet/ 1.8 m) |
| Weight | 0.36 pounds /165 g |
| Lighting | None |
| Software | None |
Comfort Design
The G435 is quite light.
Most people are always surprised just how lightweight it is.
Given its lightweight and cheap price, it's not unexpected that the structure is made entirely of lightweight plastic, with no metal visible.
Logitech claims it is carbon-neutral and contains at least 22% recycled plastic, so you can rest easy knowing your purchase isn't harming the environment. 
The ear cups have a bit of gearing to the left and right and up and down, so they fit comfortably around your ears.
I have a very large head (I use the final two notches on an adjustable cap) and found that the G435 fits nicely with the headband completely extended. 
It fits much better than the G733 as you can read here.
or you can watch it in my YouTube movie here
The Controls
The controls on the Logitech G435 are easy to operate
Several functions have beeps, such as reaching maximum volume, as well as a crescendo beep when unmuting the mic and a decrescendo beep when the mic is muted.
The Buttons
The buttons also have a good click to them. However, there is no indication of when you've hit the minimum volume.
These are among the most comfortable headphones I've ever worn, thanks to their featherweight design and soft, fabric-covered memory foam ear cups that are well-padded and never feel hot.
I wouldn't worry to wear them all day, which is surprising given that the headpiece lacks cushioning and is just covered by a thin layer of cloth. Since the G435 is so light, none of this bothered me.
The left ear cup has a power button, a volume rocker, and a button that, based on how long you push it, changes between Lightspeed and Bluetooth or mutes the microphone.
When you've reached its maximum volume, a beep sound confirms power the being and off. The USB-C port at the side of the cup is only for charging and cannot be used to create a cable connection.
Audio Support
There is no traditional input for a 3.5mm connection, and sound is confined to USB, lightspeed and Bluetooth
There no microphone boom arm.
The dual beamforming mics are integrated into the left ear cup's front. Only a USB-A to USB-C cable is included in these headphones for charging.
The USB-A dongle matches the headset in color and protrudes roughly an inch and a half from the port.
It has a narrow enough width to prevent blocking the neighboring ports.
The Logitech G435 Lightspeed was tested with these settings. Only in this scenario do my findings prove true.
Why I Purchased 5 x Logitech G435 Lightspeed Headset
The Logitech G435 is a solid performer.
They should not really move about too much if you're gaming from your desk. They're not designed for use during physical activity, and greater or more forceful head movements can cause them to slip off.
Battery Life
Logitech G435 has quite poor battery life.
I'd say that it does not hold up a whole day of gaming, you need to use with them while charging. 
When you're not using them, they have an auto-off timer that triggers after 30 minutes of inactivity to help save battery life. 
Audio Performance
The 40mm drivers from Logitech generate a good amount of volume, but the clarity is excellent, and the overall sound quality is a surprise at the price point.
Well, this doesn't mean that the audio is extraordinary.
The airy, fabric-covered ear cups are comfy and keep your ears cool, but they're not very sound isolating. You'll hear surrounding sounds unless you have the audio turned up, and if you do, those nearby will hear what you're listening to.
The lack of audible latency and the stable connection using both the Logitech Lightspeed dongle and Bluetooth were impressive. 
No Delays
There were no delays in in-game audio or lip-sync in videos, which is to be expected with a dedicated wireless audio dongle but tougher with Bluetooth. Bluetooth-enabled PCs are fully compliant with these headphones.
I MUCH PREFER LIGHTSPEED OVER BLUETOOTH!
Their wireless dongle also enables users to access them with full audio and mic compatibility. While I was watching movies on TV through Bluetooth, the audio was perfectly aligned in sync, and the connection stayed strong even I walked around 30 meters away. 
Accuracy
The Logitech G435 has great accuracy.
The sound does not have as much body or bass, so its not very good for watching movies or tv shows.
I think they are best for gaming.
Peaks
The peaks and dips performance of the Logitech G435 is good. Between low-bass and low-mid, there's a wide peak that provides thump, body, and boom to mixes.
A large peak in the low-treble makes the upper harmonics of these sounds unpleasant, while a dip in the low-mid sends vocalists and lead instruments to the rear of the mix.
Sibilants like S and T become alternatingly dull and unpleasant because of an uneven mid-treble range.
Noise Cancelation
The Logitech G435 quite simply put: Does not offer any noise cancelation or isolation.
Great Microphone on Logitech G435
In both online gaming and Bluetooth phone calls, the Logitech G435's microphone did a good job of picking up my voice clearly.
Dual Beamforming Mics
Dual beamforming mics, according to Logitech, minimize background noise, although the crucial term here is "reduce," not "remove."
On PCs as well as Android and iOS devices, they have low latency, which is ideal for wireless gaming.
They do not pick up the keyboard and any of that, but the microphone will pick up, if you are gaming with another person in the same room.
Sound Profile
The Logitech G435 Lightspeed wireless gaming headphones are created specifically for teenagers. They should, however, fit most adult skulls without difficulty.
They feature a simple style and are incredibly light and easy to wear.
Since they don't even have an equalization or presets to adjust their sound profile, it helps to emphasize sound effects in gaming.
They also contain a volume restriction that can be set to 85 or 100 decibels to safeguard the user's hearing.
The Looks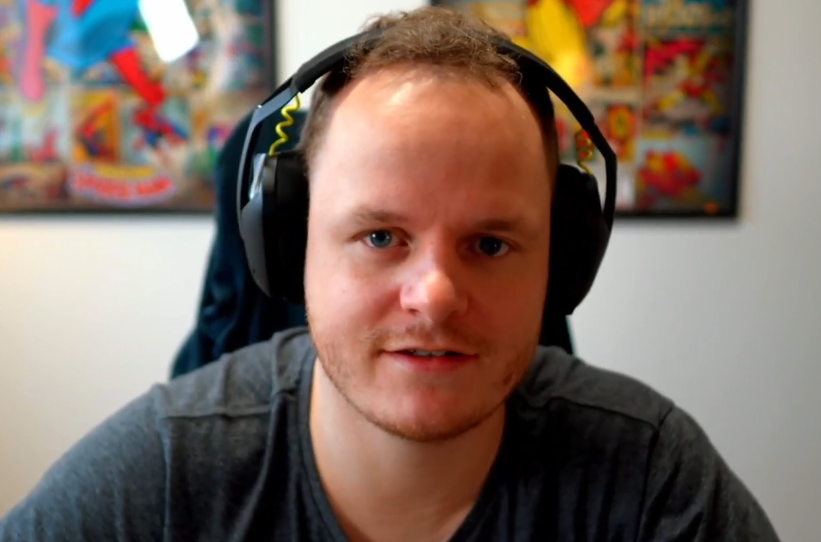 While they support Bluetooth and include a proprietary wireless connection, you can't have both your console and your Bluetooth device connected at the same time, which is a drawback.
The ear cups and headbands have the typical game looks, but they're not overly flashy. Although most people are not a great fan of RGB on headsets, many people expect it to be there and some are left unsatisfied if it isn't included.
The buttons on the headset are bright yellow, and the rest of the headset is black. The need for gaming headphones has increased, and these items are now more popular than ever.
Bottom line
The Logitech G435 is elegant and comfortable, and its dual wireless functionality allows you to use the same headphones with your computer and phone (even though not simultaneously, as with Corsair's Virtuoso RGB Wireless XT).
Review Summary of Logitech G435
I've tried to sum up my thoughts, based on experience and not like , data or anytginf
Audio Quality: 6 out of 10 – but much greater than expected.
Microphone Quality: 8 out of 10 – not a 10 because it picks up everything
Comfort: 10 out of 10
Battery life: 3 out of 10 – i guess it could be worse