Today I'm going to compare two headsets that I recently just bought.
The Logitech G435 wireless headset vs. the Logitech G733 wireless headset.
Lightweight headset: Logitech G435
Best value for money: Logitech G435
Best sound quality: Logitech G733 by a factor of 10 – the G hub enabled surround sound is 10x better than G435
Best microphone: Logitech G733
Best comfort: Logitech G435
I have used both of these for a couple of weeks now
So here's an in-depth review of the two headsets.
I'll be comparing the two versus each other as well as giving you guys important insights that you should know before getting your headset.
The Logitech G435 Headset
If you are looking to get top-notch headgear at a price that isn't off the roof, then the Logitech G435 is for you. At only $59 (normally $79), Logitech has impressed me once again with its amazing tech specs and high-quality audio hearing capacity.
I initially had this for my son to use while I used the G733 but later on, it turned into me using the G435 while my son used the G733.
Not only is it chic to have, fulfilling your gaming aesthetic and outlook, but its features aren't one you'd expect some cheap gear to have. The G435 is a beauty overall and I like its comfort and design.
Sale
Logitech G435 LIGHTSPEED and Bluetooth Wireless Gaming Headset - Lightweight over-ear headphones, built-in mics, 18h battery, compatible with Dolby Atmos, PC, PS4, PS5, Nintendo Switch, Mobile - Black
Headphones fit type:Over-Ear.Frequency Response: 100Hz-8KHz
Total comfort: Breathable fabric earcups keep your ears cool during long play sessions, and the comfortable memory foam padding helps absorb sound waves to improve overall sound.Versatile: Logitech G435 is the first headset with LIGHTSPEED wireless and low latency Bluetooth connectivity, providing more freedom of play on PC, smartphones, PlayStation and Nintendo Switch gaming devices
Lightweight: With a lightweight construction, this wireless gaming headset weighs only 5.8 oz (165 g), making it comfortable to wear all day long
Last update on 2023-09-06 | *Contains Affiliate links | *Images sourced from from Amazon
Specs Of the Logitech G435
| | |
| --- | --- |
| Attributes | Specifications |
| Driver type | 40mm |
| Frequency response | 20-20,000 Hz |
| Weight | 165g |
| Cables | USB Type-C and Type-A for charging cable length 6 feet |
| Lighting | none |
| Software | none |
| Impedance | 45 Ohms |
| Microphone type | Dual-beamforming on the cup with a 100Hz-8,000Hz frequency response |
The Audio Quality of Logitech G436
The headset audio quality is not very deep, there is almost no "bass"
But for the price
Personally, I was surprised by the quality.
It is very good for the price, and good enough for gaming.
If you want a good movie experience of tv show experience – you are going to lack the "subwoofer" or surround sound from the Logitech G733
The Design Of The G435
One thing I quite liked about this headset is that it's shockingly lightweight. Where normal headsets weigh around 0.6 pounds this is a whopping 0.36 pounds only.
With such less weight, it's no surprise that Logitech G435 is almost entirely composed of only plastic.
But don't get too concerned, the company swears they use carbon-neutral and recycled plastic in its base
So you're not only enjoying a cool headset but also positively impacting the environment, too!
Another great thing about this is that it's adjustable on the sides.
This way I can increase or decrease the width near the ear cuffs. It gives me more adjustability on this cheap headset, and I can fit it to my liking.
The overall design is pretty sleek. With a black matte finish and neon yellow highlights on the wires – although they do have more color options.
The overall structure is compact; with smooth curves on the ear cuffs all combining to give a sharp finish to the final look of the G435.
» I have also written this post, about: Logitech G535 vs. G435
Comfort Of The G435
I have to adjust it a bit as I have got a relatively larger head but, even with the adjustments, the headset fits like a charm.
Aside from this, I can also easily hear my son who sits right next to my desk.
Now I usually play games with my son and if I'm ever talking to my son while he is wearing the G435 he can easily hear me as compared to when he's wearing the G733.
The ear cuffs of Logitech G435 are padded with the softest foam I've ever felt and with its featherweight, it feels like I'm not even wearing the headset.
Even though the headband is only lined with a thin piece of fabric, I have no issues wearing these all day.
One Major Downside Of The G435
Now I can't deny that I like the model. From its base structure to its technological specs, the headgear is a joy to have.
But even with all the perks it has, there is one downside of the G435.
So my son and I recently started streaming on twitch and we play with different people online. This compels me to talk to a lot of people in the game.
This is where the G435 comes in, the issue with this headset is that it has an area microphone. This means it can pick up sound from the whole room and because I play with my son his voice is picked up by my headset.
But even with this issue, it can easily be resolved as I simply mute my son and so does everyone else who plays with us.
Pros Of The Logitech G435
It is feather-light in weight
It is comfortable to wear
Very low latency even when wireless
The fit can be adjusted for small and large heads
Relatively cheap
both bluetooth and USB Lightspeed (I like best)
Option to go wired
Cool to wear, as in "cold" – compared to other overear headsets.
Cons Of The Logitech G435
The microphone picks up everyone in the room
Battery is not great
No sound isolation if you want that
For my complete Logitech G435 review, Check out this article!
The Logitech G733 Headset
Funnily, I initially bought this headset for myself so I could give my son the G435. However, after using it for a few days, I ended up taking back the G435 and giving G733 to my son.
This headset is wireless, much like the G435, and is a headset for gamers as well as for people who work from home.
So, if you're looking for a heavy-duty isolated headset then this one is for you.
Sale
Logitech G733 Lightspeed Wireless Gaming Headset with Suspension Headband, Lightsync RGB, Blue VO!CE mic technology and PRO-G audio drivers - Black
Total freedom with up to 20 meter wireless range and Lightspeed wireless audio transmission. Keep playing for up to 29 hours of battery life. Play in stereo on PlayStation(R) 4.Note : If the size of the earbud tips does not match the size of your ear canals or the headset is not worn properly in your ears, you may not obtain the correct sound qualities or call performance. Change the earbud tips to ones that fit more snugly in your ear.Specific uses for product : Gaming,Personal,Streaming
Personalize your headset lighting across the full spectrum, 16.8 M colors. Play in colors with front-facing, dual-zone Lightsync RGB lighting and choose from preset animations or create your own with G HUB software.
Colorful, reversible suspension headbands are designed for comfort during long play sessions.
Last update on 2023-09-04 | *Contains Affiliate links | *Images sourced from from Amazon
Specs Of The Logitech G733
| | |
| --- | --- |
| Specifications | Attributes |
| Driver type | 40mm Logitech pro-G |
| Impedance | 39 Ohms |
| Frequency response | 20Hz-20,000Hz |
| Microphone type | Detachable cardioid6mm long |
| Battery life | 20 hours with default setting and 29 hours without lighting |
| Cords | USB Type-C Type-A charging cable |
| Weight | 278g |
| Lighting | 2x RGB Logitech light sync |
| Software | Logitech G hub |
| Connectivity | Lightspeed wireless 2.4 GHz USB type-A dongle |
Audio Quality of the Logitech G733 Wireless Headset
When you wear this headset it is quite obvious that the audio quality is significantly better than the G435
But then,
When you install the G-hub software and enable surround sound.
The audio quality goes from good to very great.
It feels like the perfect balance between deep bass sub, and clarity – it is both good for video editing, watching movies and gaming – a very immersive experience.
I might dare to say – the best audio quality experience I have ever had.
To compare, it is much better than the Apple AirPods pro and the Apple AirPods Max.
Design Of The Logitech G733
Built to last, the Logitech G733 has an impeccable design with rounded edges and smooth surfaces. Just by looking at it from a distance, you can immediately distinguish this as a gaming headset.
It comes in a variety of colors such as black white and even lilac.
Aside from this, the plastic of the G733 is pretty flexible but not so much as for it to lose its overall shape. There are still a few stiff points. The RGB strip makes them pop (especially in the dark).
Logitech G733 headset was initially made for gaming on your PC, but it can also be connected with consoles such as PlayStation and Xbox, and Nintendo switch.
This gives it a more general usage, one that isn't limited to the sort of device you own.
Comfort Of The Logitech G733
It's important to note that the G733 is heavier than the G435.
Aside from this, it's even got about 30 hours of battery life which is, remarkably impressive to say the least; revolutionary even.
But I must say, I think the headset is too tight for me, personally
» Read my blog post about: Logitech G535 vs. G733
Pros Of The Logitech G733
Amazing surround sound with G hub enabled
Really great mic quality, and greater at isolating the person
Up To 29 hours of battery life
Attractive color options
Great quality feel
Cons Of The Logitech G733
Limited adjustability – this is a big downside for me, because they are tight.
Warmer to wear, so if you live in a warmer weather, they are warm.
Comparing: Logitech G435 vs. Logitech G733
So, now that I've fully dissected both headsets, I'm now going to compare the two in terms of their comfort, durability, and overall comfort level.
Now keep in mind this is what I have to say about the headsets, a lot of other people may have different views on this but this is just how I felt. So, here's my comparison of the two, you can even watch my video here to know.
Head Adjustability
As I mentioned before, the G435 is very lightweight especially compared to the G733 which is the exact opposite.
Now not only is it heavier but my problem with these is that its sort of squashing around my head.
That is to say, it's very small and feels like it's squeezing my head.
If you're a big head like me, I definitely wouldn't recommend the G733 headset. It does fit my son perfectly but mind you, he's only six years old. – I guess its the perfect headset for teens?
On top of being small already, you can't adjust it either like you can in the cheap headset. So like how you could move the ear cuffs to make it bigger or smaller, no such feature exists in the G733 and it is honestly very annoying at times.
Microphone Audio Pickup
Now another comparison between the G435 and the G733 is their audio interface.
While my son and I usually play games, I wear the G435 which has no apparent microphone, just an inbuilt sort of an area microphone.
The problem with this is that it picks up sound from nearby.
So for example, if I'm playing and my son's nearby, the G435 mic would pick up his voice as well whereas the G733 is a more isolated microphone.
The mic of the G733 is more confined to just the person and can better isolate the wearer.
This means that while gaming if I were to use it my son's voice wouldn't be as easily detected
I quite like this feature of the G733 despite its shortcomings.
If you play in a room with a lot of people, the G733 is better you.
Verdict: Logitech G435 vs. G733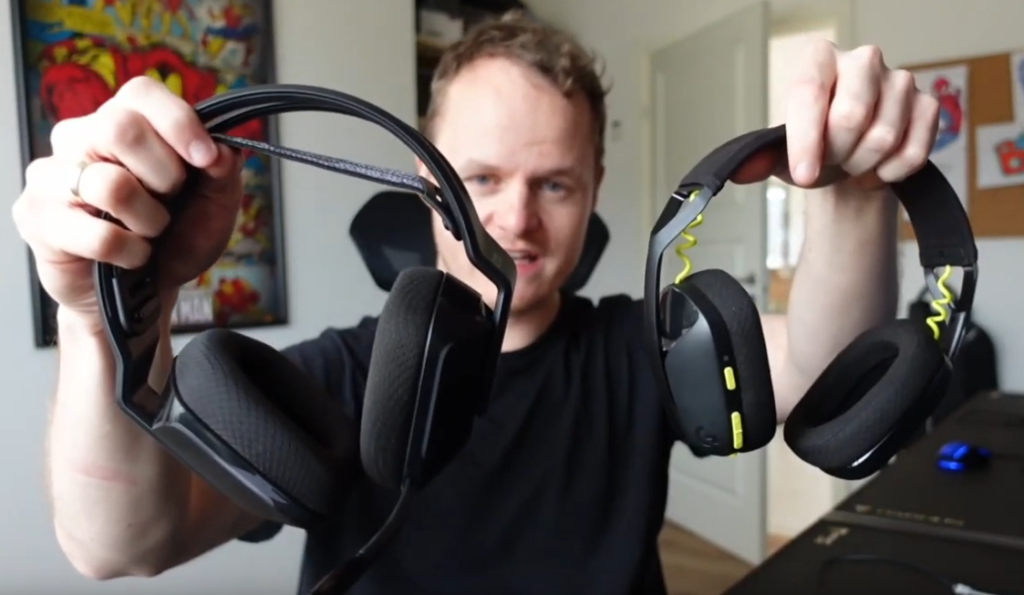 So my final opinion on these two headsets would be pretty self-explanatory.
But I'll break it down for you anyway.
If you are looking for a lightweight headset: Logitech G435
Best quality for the price: Logitech G435
Best sound quality: Logitech G733 by a factor of 10 – the G hub enabled surround sound is 10x better than G435
Best microphone: Logitech G733
Best comfort: Logitech G435
As far as choosing which one is the best, I'd rather have the G435 for both me and my son than any other headset.
but,
The other day when I watched an episode of one of the latest disney series.
I had to borrow my sons G733 – The sound in G435 is great for gaming, but not good enough for movies and TV shows.