As a dedicated photographer and videographer, I'm always on the lookout for tools that can help improve my work.
In this blog post, I will share my top 10 camera accessories that are under $25, which I use all the time. These items enhance my creative process without breaking the bank.
I have also made a video on that:

1. Falcon F-38 Quick Release System Plate
Why It's My Favorite: It's compatible with various camera clips, and its practicality and affordability make it a tool I constantly reach for.
At the top of my list is the Falcon F-38 quick release system plate. This plate is a part of a set but can also be purchased separately for approximately $15.
What I love about this system is its compatibility with the Peak Design camera clips and ARCA Swiss. The Peak Design plates are roughly $40, but the Falcon F-38 offers the same functionality for a fraction of the cost.
I use this little tool on everything – my lights, cameras, you name it. Ever since switching to this plate system on all my gear, I've been producing more content than ever before.
2. SmallRig Super Clamp & Magic Arm
Why It's My Favorite: These accessories are highly versatile, enabling me to configure my gear in numerous ways and adapt to any shooting situation.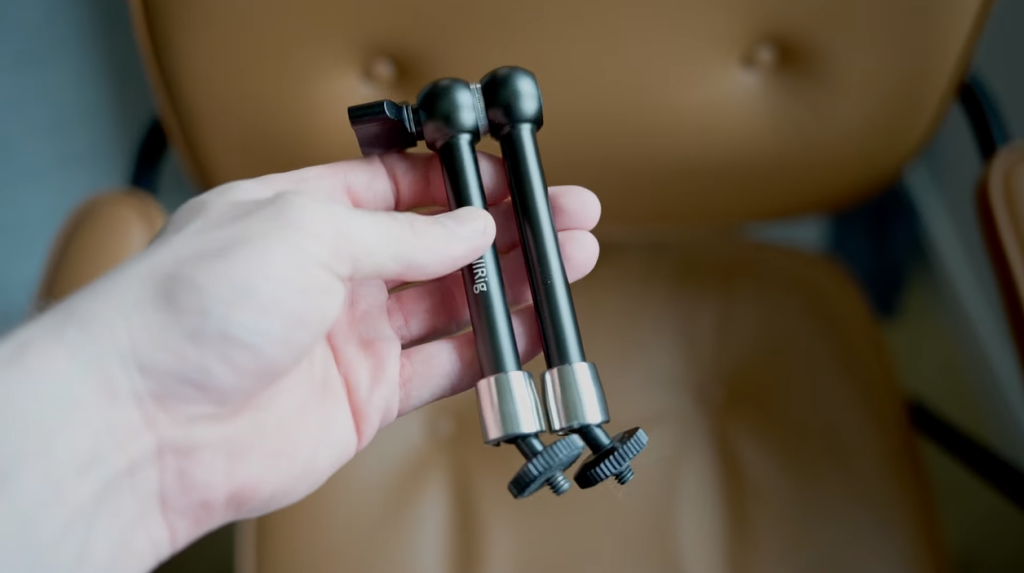 Next up are the SmallRig Super Clamp and Magic Arm. Each costs under $15, and their versatility is unmatched.
The Magic Arm allows you to build different mounts for your camera or attach it to a pole or tripod. I've previously mounted the Super Clamp onto a tripod, then connected the Magic Arm directly into the Super Clamp to bring a microphone closer to the subject.
These accessories have proven their worth time and time again, both in my personal work and professional shoots.
3. The No-Name Wonder Video Light
Why It's My Favorite: Despite its modest price, this portable light offers decent quality illumination, making it a handy tool for shoots on the go.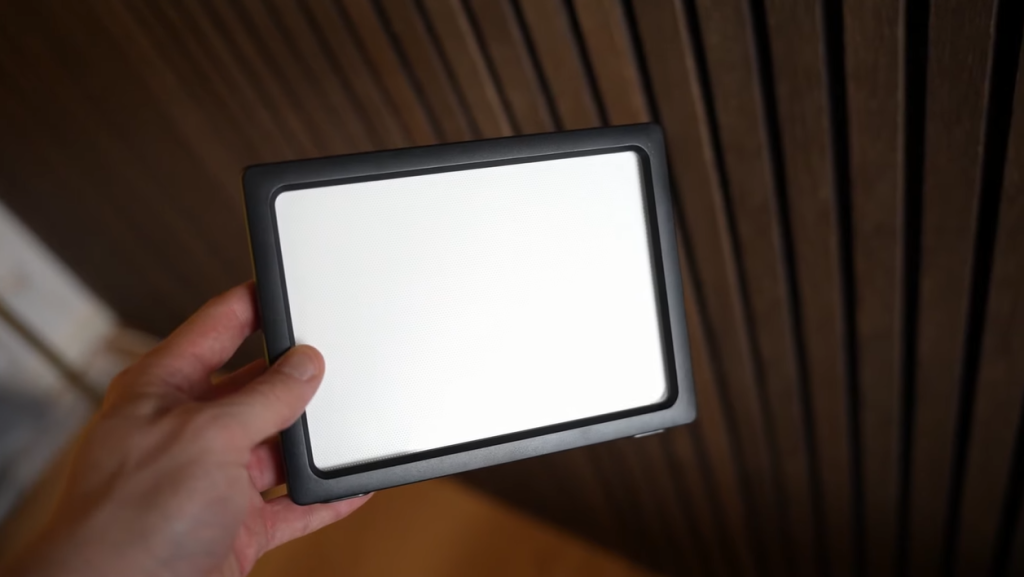 The third item on my list is a video light that packs quite a punch despite its low cost. While most video lights exceed $25, I found this one to be a fantastic budget option.
It's not the highest quality, but when reflected off a white surface or diffuser, it provides decent lighting for less than $25. I also use a bigger version of this light as my main key light, which costs around $50-$60.
If you're just starting and don't have any lights, I recommend starting with a cheaper option and learning to work with different light angles and styles.
4. Black-Mist 1/8 Filter
Why It's My Favorite: This filter adds a beautiful soft diffusion to my footage, enhancing its visual appeal and giving it a distinctive character.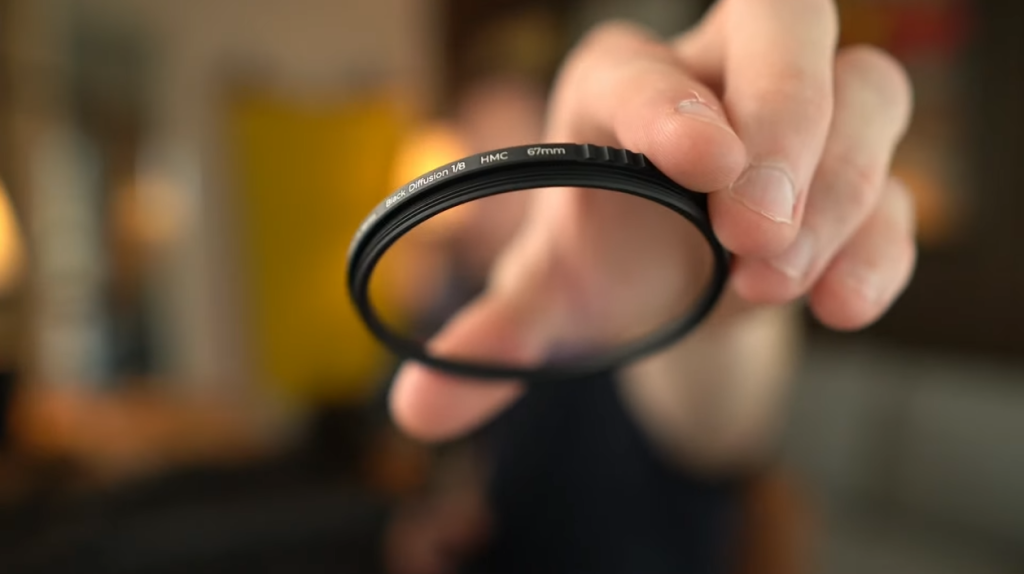 I've recently fallen in love with the Black-Mist 1/8 filter. Although I was initially not a fan of Pro Mist filters, owning one has changed my perspective.
The 1.8 filter gives a soft diffusion that adds character to videos, particularly in low light conditions. This filter, which I got from K&F, was less than $25.
5. Variable ND from K&F
Why It's My Favorite: Even though it's not the highest quality, this ND filter allows me to achieve blurry backgrounds and control exposure in bright conditions, enhancing my creative options.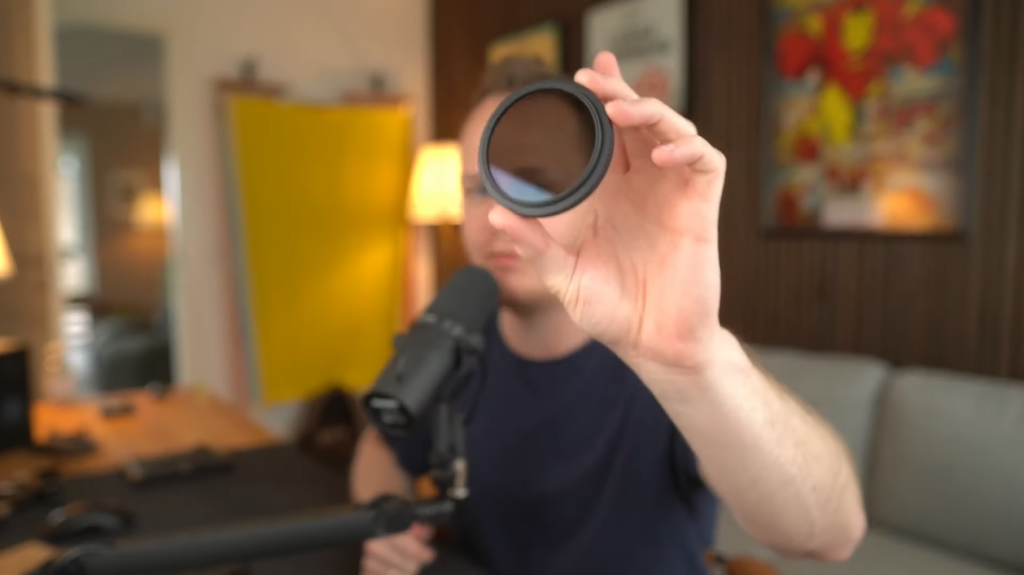 The fifth item on my list is the variable ND filter from K&F. This filter, which I use all the time, is also less than $25.
Yes, there are higher-quality ND filters out there, but they cost more than ten times as much. This one does the job for beginners or YouTubers creating content.
Some might argue it gives a green tint to the image, but if it allows you to open up wider on your aperture and achieve blurry backgrounds, it's worth the compromise.
In my opinion, it's one of the best purchases under $25, especially for beginners.
6. Extra Batteries
Why It's My Favorite: Having extra batteries on hand ensures I never run out of power during a shoot, providing peace of mind and uninterrupted workflow.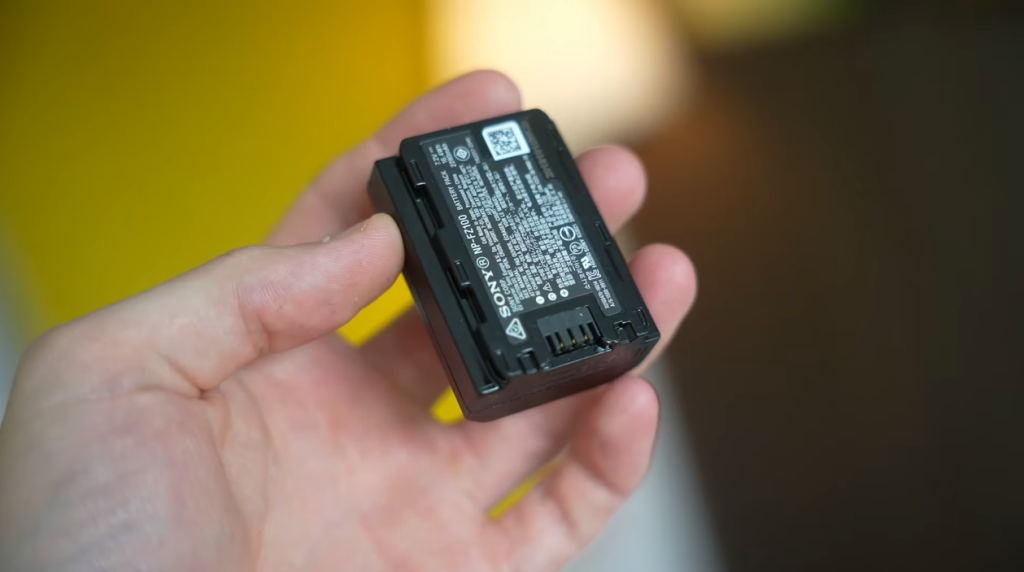 I can't stress enough the importance of having extra batteries.
I spent $10 on two additional batteries for my Sony cv1, but you can also get larger ones for under $25.
7. Studio Light Reflectors
Why It's My Favorite: Light reflectors significantly improve the quality of my shots by providing control over lighting conditions, making them indispensable tools in my studio.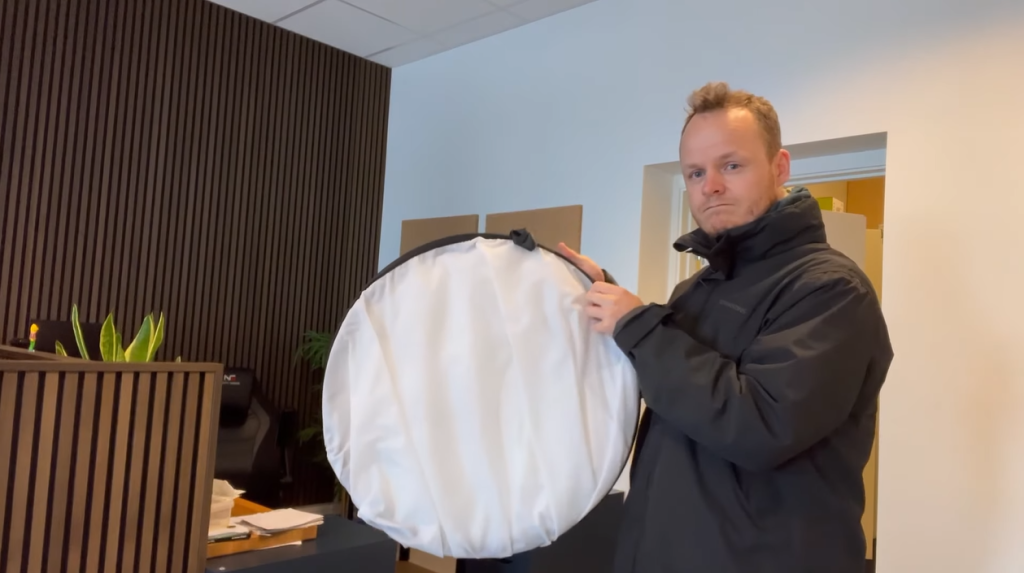 Seventh on my list is a studio light reflector/diffuser. I bought one slightly over $25, but there are smaller versions available for less.
These reflectors are indispensable for manipulating light in studio settings, and they can substantially improve the quality of your shots.
8. Camera Base Plate
Why It's My Favorite: This accessory provides easy access to the battery and SD card, and protects my camera from potential mounting screw issues, enhancing convenience and security.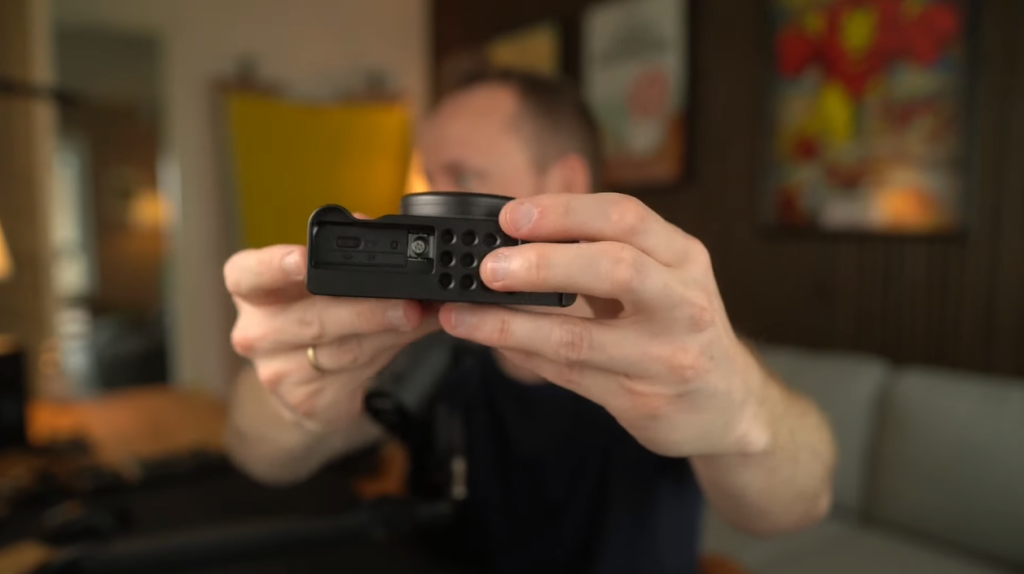 Next up is a base plate, an accessory I can't live without. I currently have one mounted on my Sony cv1, and it's a significant investment for a couple of reasons.
First, if you're mounting anything on your Sony CV1, accessing the battery and SD card with a tripod mounted becomes troublesome. A base plate eliminates this hassle.
Secondly, it saved my camera from a permanent screw issue, proving its utility beyond just convenience. Some base plates, like the one I use, also allow you to mount your camera vertically if needed.
9. SD Card Holder
Why It's My Favorite: This holder keeps all my SD cards in one place, ensuring I never lose a card and always know where to find them.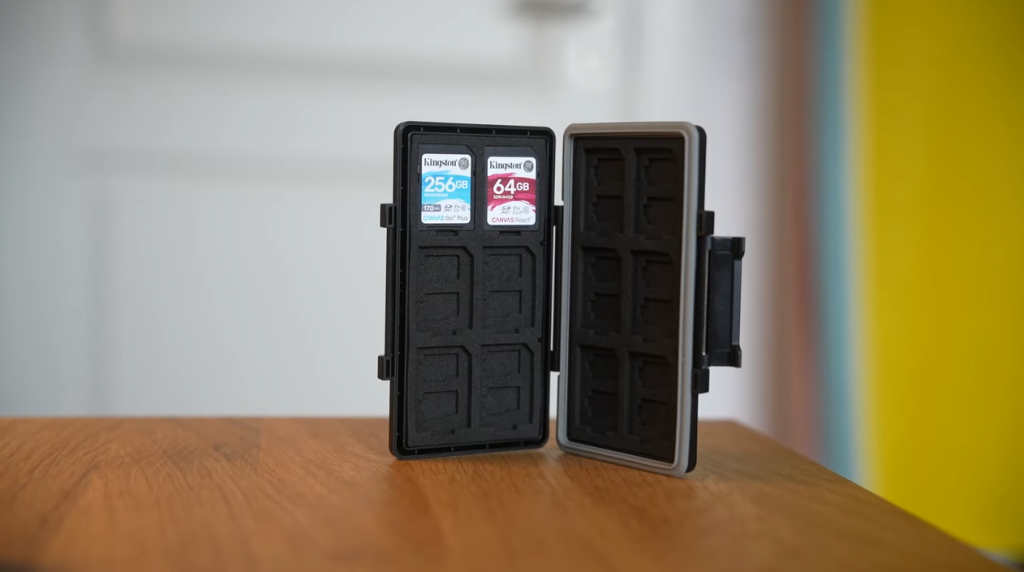 Number nine on my list is an SD card holder that can accommodate up to 12 memory cards.
For only about $9, this holder keeps all your SD cards in one place, making them easy to find. It's not just handy for travel; I use it to organize my SD cards at home.
If you've ever lost an SD card, you'll understand the importance of this accessory.
10. Three Nearly Free Items
Why It's My Favorite: The tripod adapter, the screw tool, and the leveling tool are all incredibly handy, improving my efficiency and precision during shoots.
Finally, I have three items that I've obtained as part of other sets but have found incredibly useful. First is a tripod adapter for smartphones, allowing you to mount your phone on a tripod.
The second item is a tool to screw base plates into your cameras, which I use much more often than I initially thought I would.
The last item is a leveling tool, which can also be acquired with a cold shoe mount to fit on your camera.
Bonus Accessories
I also have two bonus items under $25 that I think are great purchases, even though I don't have them with me right now.
The first is a filter bag for your camera filters, keeping them protected and organized in your bag.
The second is a mini tripod from Ulanzi, the MT16. It functions as a selfie arm, a tripod, and features a ball head cold shoe, all in one. It's excellent for mounting a microphone or additional light, and if I had seen it before buying my current mini tripod, I would have opted for the MT16 instead.
My Two Worst Regrets Under $25
Lastly, I want to share two items I regret buying because they were too cheap and broke almost immediately.
The first was an Amazon basic tripod, which broke on its first use. The second was an Amazon basic camera hand clutch, which also broke immediately. I've since replaced it with a higher-quality one from Peak Design.
In conclusion, as a creator, it's crucial to find equipment that suits your needs while being cost-effective. The camera accessories listed here have significantly improved my workflow and production quality. I hope you find them helpful, and remember, you don't always have to break the bank to produce great content!