Hello everyone! Today I am going to review a very handy and extremely useful Sony camera accessory: the UUrig 054 Camera Base Mount Bracket for the Sony ZV-1 
The camera of today is not just a device to capture still images or shoot basic video. It has morphed into the next generation of photographic communication, or photo-communication, with the introduction of vlogging (video blogging), selfie portraits, live streaming or broadcasting, and photo tourism.
As the digital camera industry progresses, newer models are developed integrated with advanced technology.
In order to keep pace with this tech, new gizmos and accessories are also invented so as to facilitate the user according to his or her needs. 
A base mount bracket plate, baseplate for short, is one example of such an accessory. 
What exactly is it? Well, a baseplate can be called an extension to your video or imaging device. 
It helps you accessorize your equipment a notch in order to, easily and efficiently, add on all those components that normally cannot be supported with just one base device.
How many cameras out there allow for one? Frankly, all cameras that support thread holes will support a baseplate.
Why UUrig Baseplate?
Last update on 2023-03-12 | *Contains Affiliate links | *Images sourced from from Amazon
Okay, so the grand question is why this baseplate? Firstly, this is a custom-made plate for the Sony ZV-1.
So if you have this model on your shelf then you definitely will not miss out on anything by getting one of these. In fact, you'll surely gain something!
As a Sony ZV-1 user, I know for sure that the quarter-inch thread screw at the bottom of my camera sits right next to the battery and SD card slot. 
Hence, when I attach my Sony with a tripod, a pistol grip, or a selfie stick, I cannot access the battery area while these extensions are in use; the lid simply does not open up like the attachment bases for these get in the way.
My solution: The UUrig ZV-1 baseplate!
Once you install this plate, it allows you to open the battery / SD card slot.
Product Specifications
| | |
| --- | --- |
| Attribute | Specifications |
| Accessory Mount | 7 x 1/4″-20 Female |
| Camera Attachment | 1/4″-20 Male |
| Arca-Type | No |
| Construction | Metal |
| Package Weight | 0.15 lb |
| Box Dimensions (LxWxH) | 5.7 x 2.05 x 1″ |
Features
The UUrig contains a ton of useful features. Some of the key ones are listed below:
Compactness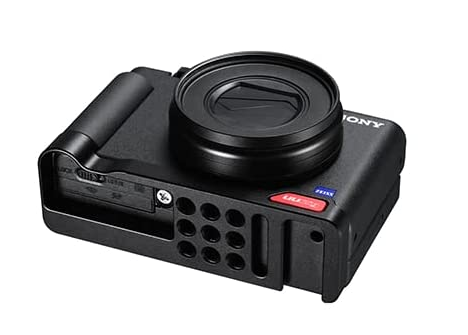 If you consider your ZV-1 as a really compact camera (which by the way it is) then by correlation, the UUrig, as a custom-made baseplate, should also fall in this category, right? 
It does!
One of the best features of the UUrig is its compact design. Weighing a mere 43 g in weight and slightly over 12mm thick, this little gadget snugs neatly beneath your device. 
Most people tend to carry their point and shoot in a small carry case. So here's the thing: even if you carry it in such a case, the Uurig Sony baseplate won't bother you by not fitting cleanly inside.
In fact, if you have felt that the ZV-1 is a bit too light while doing your regular shoots, this baseplate addition will give your camera the extra balance that you were missing. 
Manufacturing
Now, let us see what is inside the UUrig package:
First off, you have the main item, the Sony ZV-1 base-metal plate or base plate, however you want to call it.
The other item that ships alongside it is a Phillips head (or a crosshead) screwdriver.
The base extension plate is made out of an aluminum alloy which comes in black color. As far as looks are concerned, it is very sleek with a curvy aesthetic structure. 
This goes along perfectly with the ZV-1 once it is attached.
The UUrig's upper side features a non-skid silicone plate that prevents the metal base from scratching or damaging the bottom of the camera when in use.

This means that even if you are a regular user of the base plate and equip and remove it several times a day, the UUrig will not harm your Sony camera in any way.
There is also a standard quarter-inch thread (male) at the top of the base plate for connecting to the ZV-1. It sits almost in the center of the plate. 
Threaded Holes
Next comes the most prominent feature of the UUrig: 9 quarter-inch threaded holes (female) at its base.
These holes are the reason that the baseplate stands out and has gained its usage.
As long as you accurately insert the proper pod or stick here, you will not have an issue accessing the SD card slot or battery pack even in the middle of your shooting.
This, here, is the most advantageous aspect of the UUrig base plate.
It is quite a drag to stop in the middle of your shooting, remove your equipment and then replace the battery unit or the SD card. 
This base plate streamlines this whole process so that you are saved from the extra hassle. 
Thread for Vertical Shooting
Along with the 9 threads on the bottom, there is a single quarter-inch thread at the side of the baseplate as well.
This is for vertical shooting purposes or for broadcasters that make use of portrait orientation while filming their content.
A cold shoe mount is also part of this base plate which can be found next to the 9 quarter-inch holes at the bottom.
A cold shoe is basically the same as a hot shoe, just without the electrical connections. 
An external cold shoe is mostly used as a receptacle for microphones, video monitors, LED lights, and often GoPros.
Ease of Use
By now you would have already figured out how easy it is to use the UUrig metal base plate. 
Just screw it in your ZV-1 from the bottom with the provided screwdriver and bam! You're ready.
Just make sure that you have tightened it up properly so that there are no accidents with either your camera or the accessories you're going to add onto the UUrig.
As the base plate is made up of aluminum metal, it goes without saying that it converts into an extremely durable and sturdy companion. 
Even if you accidentally drop it while equipping or disengaging it from the ZV-1, it will not damage the plate.
With a very lightweight body, the UUrig is extremely easy to carry around everywhere. Even if you're carrying your camera without any back-pack and do not wish to use the baseplate for the moment, you can just pop it in one of your pockets and you're good to go!
Some Interesting Aspects
There were a few aspects that I found on the UUrig baseplate pretty interesting. Let me share them here with you.
Firstly, the quarter-inch thread hole given at the side of the plate, intended for vertical shooting, is a very neat idea. Let me elaborate a little on this topic.
So for starters, what exactly is a vertical video? Simply put, videos that are taller than they are broad are referred to as vertical or portrait-mode videos.
Vertical videos can fill the entire screen of a mobile device without requiring the user to flip the phone.
Why shoot vertically, you ask? Well, these days more and more people are watching their favorite content on mobile devices, particularly video content. 
For this purpose, it is easier for the content creator to film the video in vertical format or convert it in post-production than it is for the audience to tilt their smartphone into landscape mode. 
People, frankly, are just too lazy to flip their phones horizontally in the middle of their scrolling. 
Popular online platforms like TikTok and Facebook, in particular, provide interfaces that suit a vertical viewing style.
In fact, the Sony ZV-1 is aimed at professional and amateur vloggers, influencers, and broadcasters.
These people, like popular social media celebrities, shoot a lot of their content vertically.
Coming back, another unique aspect that caught my eye was that the UUrig metal plate acts as a reinforced grip for your ZV-1. 
You see, for some people, like me that have long fingers or a broader palm, when we try to grip the ZV-1 singlehandedly, we inadvertently fail to place our 'pinky' finger on the camera properly. 
This sometimes results in poor handling which leads to a bad picture.
With the UUrig's addition, my ZV-1 gains some extra gripping thickness which in turn helps me shoot more accurately. This is simply awesome!
Pro Tips That Are Good To Know
Here are a few points that are good to keep in mind while using your UUrig base plate.
If you are not going to access the battery or the SD card slot but do have the cold shoe in use, make sure you place your accessory in a quarter-inch hole that does not obstruct the cold shoe mount. 
This is a trade-off that you will have to judge based on the situation at hand. An easy way to avoid this is to just use the quarter-inch thread at the side of the plate. That leaves the battery slot unobstructed.
On another note, I recommend that you keep the UUrig metal plate on at all times. So, for instance, during a short break from your shooting, even if you were to temporarily place the ZV-1 on a surface with liquid or dirt, it will not directly affect the camera. 
The baseplate will take all the harm from the contact. 
Moreover, it can save your device, as accidentally placing your camera on a watery or sandy surface might pose a risk to your battery and SD card if some particles were to go inside.
Pros
Some of the pros that this device contains are:
Even with the baseplate on, you can still carry the ZV-1 in a nice compact camera case. It won't drastically affect your storage.
The design and sleek feel of the ZV-1 remain unaffected even while the baseplate is equipped. The finishing of the UUrig is just that excellent.
The addition of the baseplate is also brilliant in preventing dents and scratches from occurring on the camera's base. It allows you to place the camera on any surface without concern of harming or depreciating it.
If you ever decide to sell your camera, it will be in such good shape that you will be able to get a greater price for it 🙂
Cons
A few cons of the UUrig metal plate are listed below:
The first vertically lined quarter-inch holes, near the battery and SD card slot, will at times give you some issue with battery removal.
What is meant here is that if you use those three vertical holes for adding an accessory like a selfie rod or a monopod, depending on the thickness of your equipment, the battery lid will not completely open up.
Hence, you might not be able to access the battery properly. SD card removal or insertion will still be smooth though.
Conversely, if you end up using the vertical holes near the cold shoe, you might end up obstructing a device that is attached to the shoe. So take note!
Lastly, this was something that was pointed out to me by someone: the generic screwdriver that comes with the packaging should not be used. Apparently, the mounting bolt on the UUrig base plate is too tiny for it.
If you don't use a proper #2 Phillips-type screwdriver, you risk stripping the head. (It would have been preferable if they had used a hex key instead of a Phillips one.)
Final Word
Overall, the UUrig Sony ZV-1 Baseplate is worth your time and worth your dime. It is an essential enhancement to your Sony camera as a photographer; even more essential if you are a vlogger or broadcaster, or you do walking travel guides using your camera.