I've explored the Sony ZV-E10 and the Sony A7IV cameras extensively. Surprisingly, I find myself favoring the APS-C sensor of the ZV-E10 over the allure of the full frame in the A7IV.
TL;DR
Budget-Friendly APS-C Sensor Gets the Job Done: The Sony ZV-E10's APS-C sensor balances cost and performance, catering to quality and budget-conscious users.
Ideal for Vlogging and Starters: Designed with vloggers and beginners in mind, the ZV-E10's user-friendly features and compact form factor make it an ideal companion for those embarking on their creative journey.
Lies Within Your Budget: The ZV-E10's affordability compared to full-frame alternatives ensures you can capture stunning content without straining your finances.
AI-Enhanced Audio Quality for Content Creation: Elevating content creation, the ZV-E10 integrates AI-enhanced audio technology, providing improved sound quality for your videos and vlogs.
Here's my video review if you're not fond of reading:
Let's delve into the reasons behind my unconventional choice and discover the unique strengths of each camera.
Sony ZV-E10 vs. Sony A7IV
| Feature | Sony ZV-E10 | Sony A7IV |
| --- | --- | --- |
| Sensor | 24 MP APS-C sensor | 33.0MP full-frame CMOS sensor |
| Image processor | BIONZ X | BIONZ XR |
| Autofocus points | 425 points (phase-detection AF) / 425 points (contrast-detection AF) | 759 phase-detection points, 425 contrast-detection points |
| Continuous shooting speed | Up to 11fps | Up to 10fps |
| Video recording | 4K UHD up to 30fps, 1080p up to 120fps | 4K UHD up to 30fps, 1080p up to 120fps |
| ISO range | 100-32000 (expandable to 50-51200) | 100-51200 (expandable to 50-204800) |
| LCD screen | 3.0-inch tilting touchscreen LCD with 920,000 dots | 3.0-inch tilting touchscreen LCD with 1.03 million dots |
| Battery life | Up to 440 shots (CIPA standard) | Up to 500 shots (CIPA standard) |
| Dimensions | 115.2 x 64.2 x 44.8 mm | 131 x 96 x 80 mm |
| Weight | 343 g (body only) | 659 g (body only) |
Key Features of the Sony A7IV
Priced around $2500, $2700 with kit lens from the source
Excellent photo and video capabilities
Video performance comparable to Sony A7S III
High megapixel count, suitable for photography
Versatile for switching between photo and video modes
Large viewfinder and quality screen
Full-size HDMI port for high-quality video output
33-megapixel sensor for impressive photo quality
Dual SD card slots included
Sale
Last update on 2023-09-04 | *Contains Affiliate links | *Images sourced from from Amazon
Key Features of the Sony ZV-E10
Priced at $600 to $700, accessories affect the cost
Features an APS-C sensor for affordability
APS-C sensor size difference compared to full-frame
Comparable to the Super 35 sensor used by professionals
APS-C lenses are budget-friendly, with a wide selection
10-bit video capability for color grading
Built-in microphone and AI-enhanced audio quality for vlogging
4K capabilities with a slight crop, performs well in various scenarios
Last update on 2023-08-22 | *Contains Affiliate links | *Images sourced from from Amazon
Why Should You Choose Sony ZV-E10 Over Sony A7IV?
While the allure of the full frame is strong, the ZV-E10 presents compelling reasons to consider an alternative path. Let's explore why this budget-friendly APS-C camera might be your perfect match.
Budget-Friendly APS-C Sensor Gets the Job Done
As a photography enthusiast who values performance and budget considerations, my exploration of the Sony ZV-E10 has revealed a hidden gem in APS-C cameras. Though not as illustrious as the full frame, the APS-C sensor brings undeniable advantages that make it a sensible choice for many photographers.
Despite its smaller size, the APS-C sensor in the ZV-E10 doesn't compromise image quality. It strikes a balance between cost and performance, delivering sharp and vibrant images that meet the expectations of enthusiasts and those venturing into photography for the first time.
The camera's approachable price point ensures that investing in quality gear doesn't drain your wallet, a key factor for anyone starting or looking to expand their creative toolkit.
When it comes to portability, the ZV-E10's compact form factor shines. This makes it an ideal companion for travel, outdoor shoots, and vlogging, where convenience and ease of use are paramount.
The camera's lightweight build is advantageous during extended shooting sessions or when capturing on-the-go moments that demand agility.
Whether diving into vlogging or simply seeking a dependable camera that covers various scenarios, the Sony ZV-E10 delivers admirable performance with its APS-C sensor without overextending your resources.
It's a reminder that bigger isn't always better and that smart technological choices can elevate your photography experience while keeping your bank account intact.
Ideal for Vlogging and Starters
I've come to appreciate the significance of a camera that aligns seamlessly with the needs of vloggers and those stepping into the realm of content creation. The Sony ZV-E10, with its purposeful design and features, proves to be an ideal companion for vlogging and beginners.
One of the standout aspects of the ZV-E10 is its user-friendly interface. Navigating through its settings and modes doesn't require a steep learning curve, allowing newcomers to dive right into capturing content.
The intuitive touch screen provides quick access to essential functions, making adjusting settings on the fly effortless. This accessibility fosters creativity, enabling vloggers to focus on their storytelling rather than grappling with complex controls.
The ZV-E10's compact and lightweight form factor adds another convenience for vloggers on the move. It's easy to handle during handheld shots or when vlogging on location. Its hidden presence makes it comfortable, ensuring the focus remains on delivering engaging content rather than managing cumbersome equipment.
Lies Within Your Budget
Staying mindful of budget constraints, the Sony ZV-E10 emerges as a camera that aligns perfectly with my financial considerations. Finding a device that doesn't compromise quality while being friendly to the wallet is a breath of fresh air.
This affordability opens avenues for investing in other essential accessories or allocating resources to other aspects of my creative pursuits.
The ZV-E10's competitive price point shows that cutting-edge technology and impressive features can lie within a budget-friendly range, allowing me to make a smart and satisfying investment in my photography journey.
AI-Enhanced Audio Quality for Content Creation
For those taking their first steps into the world of photography and videography, the ZV-E10 offers a versatile platform for growth.
Its array of creative features, from background defocus to face-tracking autofocus, empowers beginners to experiment with various techniques and styles.
The ZV-E10's built-in microphone with AI-enhanced audio quality is a game-changer for vloggers seeking professional-level sound without the complexity of external audio setups.
This feature alone significantly elevates the quality of vlogs and reduces post-production efforts.
The Sony A7IV is Best Suited for Professionals With Top-Tier Requirements
As someone who has had the privilege of extensively using the Sony A7IV, I can't help but be impressed by its remarkable capabilities that cater to professionals seeking top-tier performance.
The full-frame sensor delivers an image quality that's hard to match, capturing intricate details and rendering scenes with stunning realism. The camera's proficiency in low-light conditions is commendable, allowing me to explore various lighting scenarios confidently.
The advanced autofocus system is a game-changer, accurately tracking subjects even in challenging situations. This has proven invaluable in fast-paced environments where every moment counts.
Regarding the video, the A7IV shines with its cinematic 4K capabilities and impressive dynamic range, elevating my video projects to a new level of visual storytelling.
I have also written this post on Why You Don't Need CFexpress for Videos on Sony A7S3 or A7IV
Although not flashy, the camera's ergonomic design is functional and well-considered. It doesn't compromise usability, allowing me to focus on my craft without wrestling with the controls. Durability is a noticeable trait – it feels robust enough to handle the demands of professional use without concern.
Ultimately, the Sony A7IV is undeniably tailored to professionals who require advanced features and exceptional performance.
It's not just a camera; it's a tool that empowers me to translate my creative vision into reality, capturing moments with clarity and precision that's truly gratifying.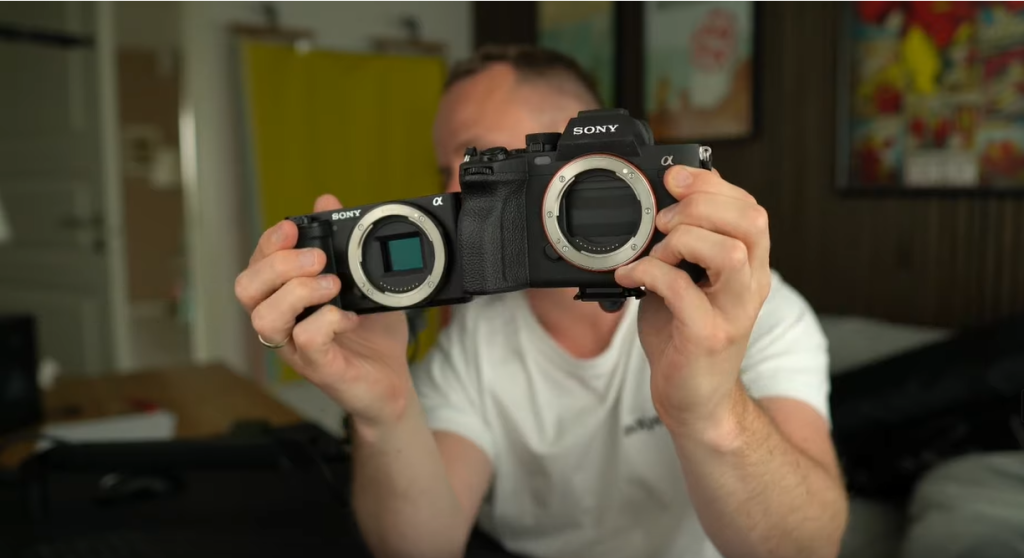 The Takeaway
In wrapping up the comparison between the Sony ZV-E10 and the Sony A7IV, I'd like to reiterate that the choice isn't just about megapixels or sensor sizes; it's about finding the right tool for your creative journey.
The ZV-E10's budget-friendly APS-C sensor and user-friendly features make it an appealing companion for vloggers and beginners.
On the other hand, the A7IV's advanced capabilities cater to professionals who demand the pinnacle of performance and quality.
So, whether you're pursuing creative content or pushing the boundaries of professional photography, the decision ultimately hinges on aligning your choice with your aspirations and creative needs!