The Sony ZV-E10 camera has emerged as a prominent contender in vlogging and content creation, captivating creators' attention worldwide.
TL;DR
Here is my experience while using Sony ZV-E10:
Compact Camera Size: The camera's compact size and versatile lens compatibility make it ideal for various shooting scenarios.
Functionality and Affordability in Harmony: With its perfect blend of functionality and affordability, the ZV-E10 is a versatile tool to bring creative visions to life, offering reliable performance and 4K resolution shooting.
Caveats to Consider: Potential buyers should know the short battery life, smaller handle size and potential grip instability, particularly when using larger lenses. This drawback might affect users with larger hands and may require additional accessories to improve handling comfort and stability.
Crafted with the specific needs of vloggers and YouTubers, this camera showcases a host of impressive features that are bound to elevate the quality of your content.
But I found a few major problems you should know before buying Sony ZV-E10.
Here's another camera that I love to use: Sony ZV-1 Test and Review
This article will provide an in-depth review of the Sony ZV-E10, highlighting its key features, discussing personal experiences, and addressing the top three problems that potential buyers should be aware of.
If you want to go through Sony ZV-E10 problems quickly, here's my complete video review:
With a perfect blend of functionality and affordability, the Sony ZV-E10 presents a compelling option for those seeking a versatile tool to bring their creative visions to life.
From its exceptional autofocus capabilities to its ability to shoot in stunning 4K resolution, the ZV-E10 promises to be a reliable companion on your content creation journey.
Last update on 2023-09-22 | *Contains Affiliate links | *Images sourced from from Amazon
Sony ZV-E10 Specifications
Attribute
Specifications
Focus Sensor
Exmor® CMOS sensor
Number of Pixels (Effective)
Approx. 24.2 megapixels
Number of Pixels (total)
Approx. 25.0 megapixels
SHUTTER SPEED
Still images: 1/4000 to 30 s, Bulb
Movies: 1/4000 to 1/4 (1/3 steps), up to 1/60 in AUTO mode (up to 1/30 in Auto slow shutter mode)
Weight (with battery and memory card included)
Approx. 12.1 oz (Approx. 343 g)
Battery Life
Movie Rec time: Approx. 80 min.
Still Images: Approx. 440 shots
AE Lock
Yes
Focus Type
Fast Hybrid AF (phase-detection AF / contrast-detection AF)
Dimensions (W x H x D)
Approx. 4.54 x 2.53 x 1.76 inches (FROM GRIP TO MONITOR)
Approx. 115.2 x 64.2 x 44.8 mm (FROM GRIP TO MONITOR)
Overview of Sony ZV-E10 Features
The Sony ZV-E10 boasts various features, making it an attractive choice for content creators.
Remarkable autofocus capabilities: Equipped with one of Sony's newest and best autofocus engines, the ZV-E10 ensures consistently sharp and well-focused shots, even in challenging conditions.
4K shooting without cropping: Unlike many other cameras in its class, I found that the ZV-E10 maintains a full field of view while recording in 4K, allowing you to capture more of the scene without sacrificing quality.
Excellent performance in 1080p: The ZV-E10 excels in 1080p, delivering high-quality video performance ideal for vlogging and other content creation purposes.
Enhanced Creative Control: The Sony ZV-E10 provides content creators with various features for greater creative control. It offers various picture profiles, including S-Log2 and S-Log3, which enable users to capture footage with increased dynamic range and flexibility in post-production.
Versatile Lens Compatibility: The ZV-E10 is compatible with a wide array of lenses, expanding the creative possibilities for content creators. Whether you prefer Sony's E-mount lenses or third-party options, the camera provides flexibility in lens selection to suit different shooting scenarios.
Built-in Microphone and Audio Features: Understanding the importance of high-quality audio in content creation, the ZV-E10 features a built-in directional microphone that delivers clear and crisp sound capture for my videos.
Sony ZV-E10: What I Like From My Personal Experience
Personally, I have found the Sony ZV-E10 to be an incredibly valuable addition to my camera setup, especially for top-down wall-mounted shooting.
The compact and lightweight nature of the camera makes it perfectly suited for this purpose. Its smaller size (except the handle) allows easy mounting and positioning, ensuring convenience and flexibility in capturing shots from above.
One of the standout aspects of the ZV-E10 is its remarkable autofocus capabilities.
Sony, renowned for its expertise in autofocus technology, has equipped the ZV-E10 with one of its newest and best engines. This has been instrumental in achieving consistently sharp and well-focused shots, even when capturing intricate details or dealing with challenging shooting conditions.
When shooting from above, it is crucial to ensure that every element in the frame is in clear focus, especially when capturing small objects or intricate scenes.
The ZV-E10's autofocus system has excelled, delivering impressive results and minimizing the need for manual adjustments. This has significantly enhanced the overall quality of my top-down shots, making them visually appealing and professional-looking.
The autofocus performance of the ZV-E10 is not limited to still images alone. When shooting videos from a top-down perspective, maintaining focus throughout the footage is essential.
The camera's autofocus capabilities have also excelled in this aspect, ensuring that my videos are consistently sharp and well-focused, even during dynamic movements or changes in the scene.
Three Problems to Look Out For in Sony ZV-E10
While the Sony ZV-E10 offers many advantages, there are a few problems that potential buyers should be aware of before purchasing. Let's delve into the top three issues:
Problem 1: Small Handle Size and Potential Grip Instability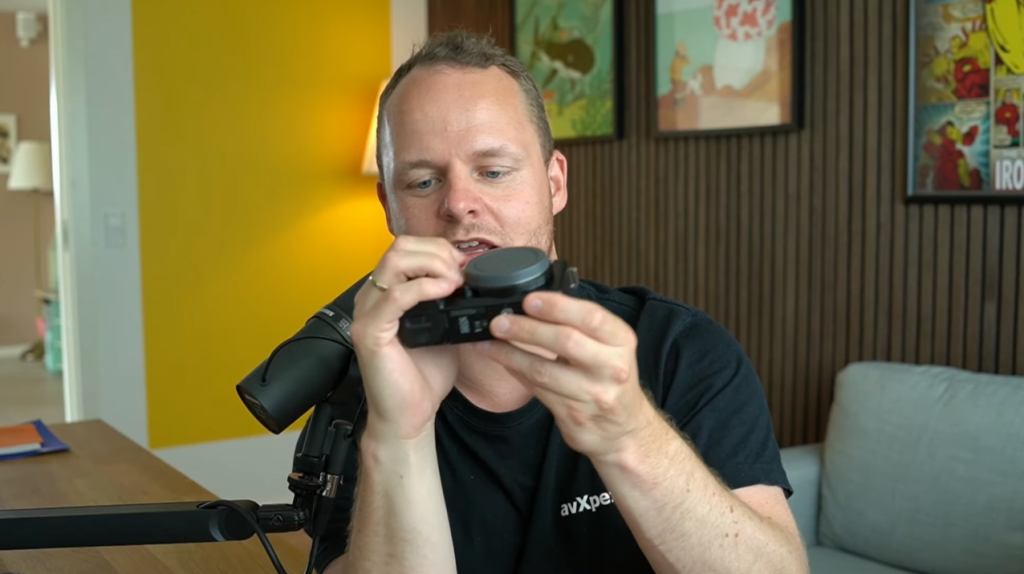 One notable drawback I experienced while using the ZV-E10 is its small handle size. It is extremely problematic when I use larger lenses, such as the 16mm Sigma lens.
The weight distribution can clearly be felt as unbalanced, which affects grip stability. It is important to note that this problem is subjective and may vary depending on hand size and personal preference. However, individuals with larger hands might find it more challenging to maintain a secure grip on the camera.
Fortunately, this problem can be mitigated by investing in an accessory like the Peak Design hand wrap. This wrap provides additional support and enhances grip comfort, allowing for better camera handling, especially when using larger lenses.
Here's a hand wrap you can buy from Amazon directly:
Peak Design Clutch Camera Handstrap CL-3
WORKS WITH ANY DSLR Compatible with any DSLR (or SLR) camera, including large full-frame bodies and cameras with battery grips.
TRIPOD COMPATIBLE Compatible with most ARCA-type tripod heads. New CL-3 version is provided with our Lower Profile ARCA Compatible Release Plate.
QUICK-ADJUSTING Cinch down on your hand for total security, or pull to loosen when accessing camera controls.
Last update on 2023-09-22 | *Contains Affiliate links | *Images sourced from from Amazon
Problem 2: Absence of a Viewfinder
The Sony ZV-E10 lacks a built-in viewfinder, which can be a significant drawback for some users. Since the camera is primarily designed for vlogging and content creation, a viewfinder can be advantageous in certain situations, such as when shooting in bright sunlight or when precise framing is required.
For those who value a viewfinder, this omission may pose a limitation when using the ZV-E10 for photography or other scenarios beyond vlogging.
Problem 3: Battery Life and Performance
The ZV-E10 has a smaller battery than other models, resulting in a shorter overall battery life. Since the handle is small, the battery space is small.
I have a Sony A74 camera that I took with me on a 10-day vacation, and it never needed to be recharged throughout.
It's worth noting that the battery performance may vary depending on individual usage patterns and settings. However, carrying spare batteries or a portable charger is advisable to ensure uninterrupted shooting, especially during longer sessions or while traveling.
Some Additional Considerations
In addition to the top three problems outlined above, a few other considerations have been noted in relation to the Sony ZV-E10.
Graininess When Shooting in Log Footage
Some users have observed potential graininess when shooting in log footage, attributed to the camera's 8-bit recording capability. While this can affect video quality, shooting in 1080p has been suggested as a potential workaround, as it produces less noticeable grain.
For most vloggers and content creators, 1080p provides excellent video quality while allowing for creative options like slow-motion capture.
Inaccurate Display
The ZV-E10's screen may not accurately reflect the final image, resulting in differences between what is seen on the camera's screen and the actual recorded footage. This discrepancy can impact the accuracy of framing and exposure.
While it may not pose a significant issue for casual use, professionals and those seeking precise control may find it limiting. It is advisable to review footage on a computer monitor or external display to ensure accurate results.
Below-Par Interface
It is worth noting that Sony's menu system has been criticized for its user experience, especially compared to other camera brands like Black Magic.
Some users find the menu navigation and organization less intuitive and user-friendly. Familiarizing oneself with the menu system and adjusting may require time and exploration.
The Bottom Line
The Sony ZV-E10 offers a compelling package for vloggers and content creators, with its impressive autofocus, 4K shooting capabilities, and affordable price point.
While the camera has many positive aspects, we must consider the top three problems we discussed: the small handle size and potential grip instability, the absence of a viewfinder, and the battery life and performance.
By being aware of these issues, potential buyers can make informed decisions and determine if the Sony ZV-E10 aligns with their needs and preferences.
The ZV-E10 is a versatile camera that delivers excellent vlogging and content creation results, offering a balance of features, portability, and affordability. Users can maximize this camera's potential and easily produce high-quality content!