In this article, I'll be reviewing Black Shark Mako M1 mouse. Black Shark is a Xiaomi subsidiary brand known for high-end gaming smartphones. It's now offering a range of products in other areas of gaming including Mako M1 – the brand's first gaming mouse.
Buying a gaming mouse can be tricky. You'll need to consider the style of play e.g. should your mouse have additional buttons, or does accurate tracking of your mouse matter.
Moreover, the sensor on your gaming mouse also holds the key i.e. either an optical or laser one.
The grip on the mouse is also crucial because it helps determine the level of comfort. Customizations like lightning, type of software, and style of play also count. Finally, a factor that needs to be looked into is whether the mouse should be wired or wireless.
I'll be giving you a brutally honest review on what to expect in this Black Shark Mako M1 review. I'll be writing a complete breakdown from when I received the package, to the unboxing part, to listing all important components, and finally my own experience of using it.
Here's a product specification table for Black Shark Mako M1 Mouse.
Product Specification
| | |
| --- | --- |
| Products | Attributes |
| Brand Name | Black Shark |
| Interface Type | Bluetooth |
| Type | 2.4 GHz Wireless |
| Rollers | 1 |
| Packaging | Yes |
| Operation Mode | Opto-electric |
| Hand Orientation | Both Hands |
| Connection | Type C-wired/ 2.4G wireless |
| Special Feature | Wireless/Lightweight/Rechargeable |
| Certification | CE |
| Gross Weight | 0.13g |
| Buttons | 6 |
| Power Type | Rechargeable |
| Compatibility | PC/Laptop/Mac |
Black Shark Wireless Gaming Mouse, Dual-Mode Wired Computer Mouse with 10000 DPI, Replaceable Honeycomb/Solid Shell, 6 Programmable Buttons, RGB Gamer Mice for Laptop PC Mac, Mako M1
【Wireless / Wired Mouse Dual-Mode Design】Plug-and-play, low-latency gaming mouse connection in 2.4G wireless mouse mode. USB C mouse wired mode to keep playing while charging, or detach the battery switch to light-weight, wired mouse mode with a 71-inch braided cable.
【Two Swappable Back Shells】This gaming mouse lets you choose either of two mouse back shells. The solid type has a sleek feeling when you grip the mouse, and the honeycomb type—featuring a hollow-carved design—transforms the Mako M1 wireless mouse into a lightweight, 90g unit.
【High-precision Sensor】This pc gaming mice is equipped with the PMW3325 gaming mouse optical sensor and six default DPI Levels (500/1000/1500/2000/3000/5000 or up to 10K DPI with software), 100IPS, 20G ACC and a 1000 Hz refresh rate, this gamer wireless mouse offers superior gaming speed with quick, accurate response.
Last update on 2023-09-04 | *Contains Affiliate links | *Images sourced from from Amazon
The Packaging
The mouse I got was packaged in a nice solid box. And the packaging looks quite promising, to be honest. It's no less than any expensive mouse box. And — It cost me around $40.
When opening the package, I also got various accessories other than the mouse in the box including a USB cable which was approximately 2 meters in length.
The cable was C-type coated along with a receiver antenna which is in form of a small USB stick. Other accessory items that I got included a rechargeable battery (up to 17 hours of battery life).
The package also had a honeycomb-designed hardcover which can be replaceable with the original hardcover and an instruction manual. The design itself is black. I kind of figured out though that there is also a shade of green.
I found a striking contrast between black and bright green. This can be found among almost every Black Shark brand i.e. it goes from the design to the product and has been the brand's distinguishing quality. The same is also the case for Black Shark Mako M1, which is black.
I was in awe of the packaging!
Features & Accessories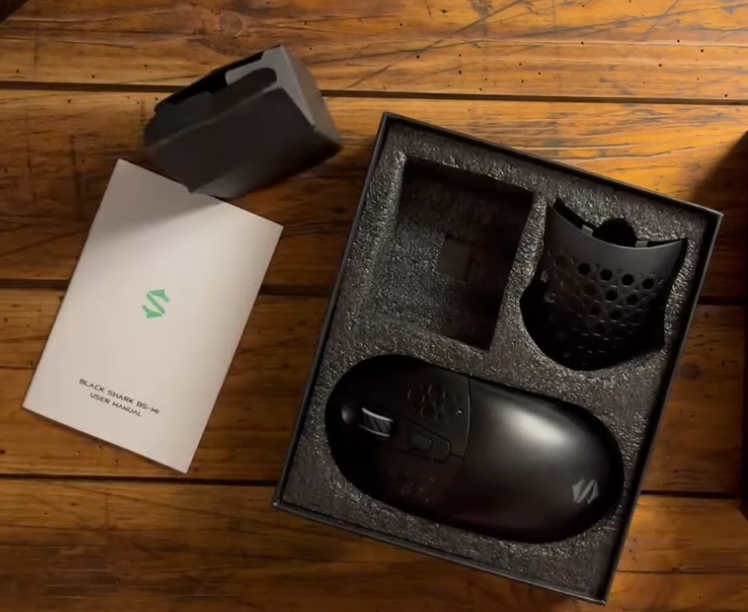 Now I'll jump onto the buttons. In total, the mouse has 6 control buttons. Furthermore, the mouse design keeps a scroller, along with a DPI button, and two side buttons. Although, for a leftie, the side buttons are uncomfortable.
Unlike righties, who can use their thumbs to reach the buttons (as they're on the same side), the lefties will find it struggling with buttons being on the same side. But it's easy to use for a normal-sized hand.
What I found the most convenient with the mouse was the grip — I can grip it using my finger, using my claw, and also with the aid of my palm. The weight of the mouse will only come to play based on how I use the mouse.
Thus, the dual-mode is helpful because it gives me the choice of using the mouse either in wireless mode or with the help of a cable. In both cases, I can make all the necessary adjustments when it comes to connections and use the mouse well.
Is Mako M1 Heavy?
I found the M1 mouse to be significantly heavier in mass. The gaming mouse is around 100 g in mass which is pretty heavy as compared to other brands that are near 70 g with familiar specifications. Thus, the Black Shark Mako M1 is heavier comparatively which can affect style.
This question popped up in my head when I was looking at some of the special aspects of the mouse e.g. connecting the mouse with a radio. The choice to connect this mouse with a radio is a given plus.
There's a battery provided which is used in the mouse to make the connection happen. But it carries additional weight which can affect the overall mouse weight and can influence the grip of the mouse.
The Color & Cover
Another distinctive feature of Mako M1 that I observed was the contrasting color scheme of the brand. This distinctive feature is the contrast between black and bright green. While browsing, almost every Black Shark product is packaged similarly.
But every Black Shark Mako M1 is pitch black with a green accent placed perfectly making the brand logo's outlook creative. Logo designs have a significant impact on the overall brand quality.
Finally, I easily removed its replaceable cover without a screwdriver.
The replaceable cover is also known as the mouse shell. This shell is magnetically attached to the mouse. Underneath the mouse, there are also sliding pads. These pads are 4 in number and are made of Teflon material (PTFE Teflon).
Just in case – You can replace the original cover with a honeycomb-designed cover.
Details
The dimensions i.e. the DIM weight of the Black Shark Mako M1 is 335400 cubic millimeters. Although a nylon braided USB C-type cable is provided with a length of 180 cm if the user wants to go wireless the dual-mode operation gives flexibility with going wireless as well.
The mass varies from 90 g to 105 g. Depending on the usage, the mass varies. It comes with a battery of 500 mA, and integrated memory.
I also discussed the type of sensors earlier in the review. Like others prefer using Optical, so is the case with the Black Shark mouse which uses Optical Sensor (PMW3325).
The Optical Sensor acceleration speed is around 20 G with 100 ips tracking speed at maximum, a DPI up to 10,000 with the software, and 4 sliding pads made of Teflon (PTFE) underneath.
The mouse has 6 programmable keys with backlighting zones of 2 RGB and 1 LED lighting. The mode light is up to 6 hours with light off mode being 17 hours.
Installation Of the Mouse
So the dual-mode operation of the mouse makes the installation and commissioning of the mouse extremely easy. The first step is to choose between a wireless or a cable connection. Whether you'd like to go wireless or use a USB cable to install depends on your style of play.
When I installed a wireless connection, what I did was simply plugged the USB receiver into the system (PC/laptop). All I did was simply removed the USB casing, placed the battery, and plugged in the USB.
In my case, (as in most cases), it worked as Windows didn't install any driver, etc. The Windows simply recognized the mouse automatically. Another important thing you should know is that with a C-type USB cable, a battery is not necessary, and you can simply plug in the cable.
There's also an option to install the driver from the Black Shark website. However, in my case, Windows didn't recognize the driver initially and took it as an alien i.e. malware. In this case, you don't have to worry, just select the Execute anyways option, and installation will take place.
I liked that one can check the battery status of the mouse from the display provided by the software. There are other options like customizing color effects of RGB (up to 9 colors), adjusting DPI speed, and adjusting the frequency of cursor movement i.e. polling rate (up to 1000 Hz).
I was able to save these settings in my profile which is a plus point as this doesn't waste my extra time in adjusting every time.
My Experience Of Using Mako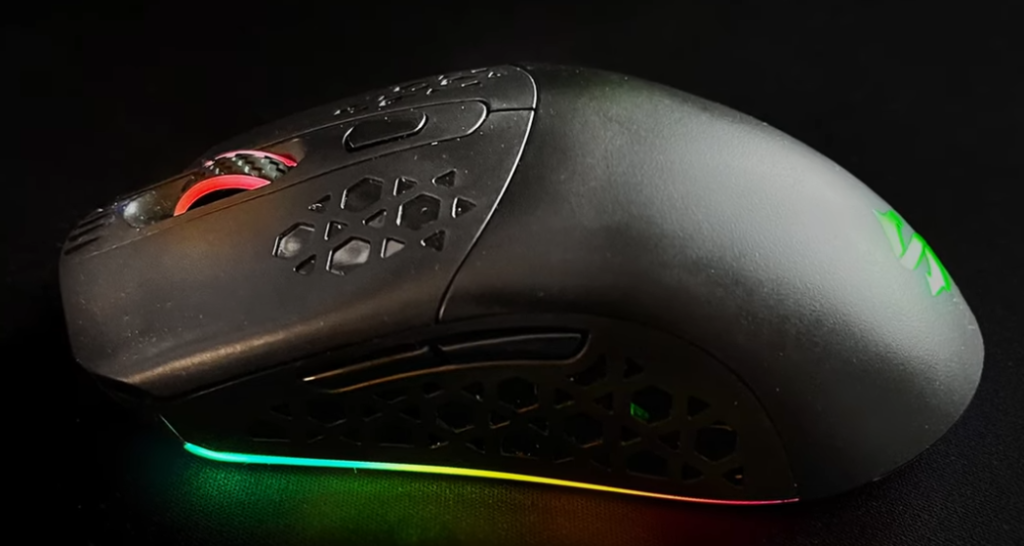 Let me share my honest experience of Mako Mouse with you guys.
I opened the box. And I was like woahhh! The packaging had me drooling — It has been shaped up so perfectly. I can change the mouse's back casing from hardback to a mesh one. It had all the necessary accessories with a quality design including the USB adaptor.
The mouse has special RGB lights at the back. The aesthetics I mean are so perfect and by no means, I could find any flaw with the design of this mouse.
Operation Of Black Shark Mako M1
In the installation phase, I had no problems commissioning the mouse with my PC. All of the processes were pretty much self-explanatory. I downloaded the driver for the mouse from the official Black Shark website.
RGB Lights look really good while using this mouse. It just gives me a feeling I can't express in words. But if you're using RGB lights continuously, it comes at the expense of extra battery usage. Without RGB lights, Mako M1's battery can run up to 18 hours!
Maybe it's just the case with my mouse — But the operation of Black Shark Mako M1 didn't seem very promising to me. When I first tested Mako M1 with my desktop, I found some connectivity issues.
The mouse wheel seems to be stable most of the time. However, the mouse cursor lost its track a few times while testing. I'm pretty much sure it's just a technical issue with my product. But again, it's a major problem I faced while using Black Shark Mako M1.
Sometimes I wonder whether it's the range that's causing problems. Connecting Black Shark Mako M1 with a cable might fix this tracking problem.
I have also compiled a list of pros and cons of having Mako M1 based on my personal experience. Here's what you need to know:
Pros Of Mako M1
Easy to install and commission on the system
The symmetrical design is useful for both left and right-handed users
The RGB LED lighting on the mouse is a treat to watch and enjoyable
It can be used in dual-mode i.e. wireless and wired, and even with a radio interface
It has a good battery life and can be used for a longer period
Cons Of Mako M1
Few temporary connectivity issues with the system
Cursor tracking isn't perfect
RGB lights make some noise while in operation
The mouse's weight is heavy

The color scheme i.e. lightning
Summing Up The Positives
The positives: It had a dual-mode operation which allowed me to have options to opt for either cable or wireless. This didn't affect the precision.
Moreover, symmetry was also another positive sign – symmetrical design made it suitable for both the lefties and the righties.
When it comes to features and aesthetics, Black Shark Mako M1 seems good. It has charging capabilities that are different than the normal mouse. Moreover, the charger is put to good use in running the mouse for a longer period.
Verdict
Black Shark Mako M1 turned out to be a good mouse overall but wasn't as good as I expected. Maybe because I had a defective piece of product delivered.
I saw many positive reviews for the Mako M1 mouse so I can only assume these things are wrong with my mouse — Not with every product.
Conclusion
This mouse is pretty good for the price that you pay and it is also a wireless mouse which is super convenient. The mouse is comfortable to use The 24-month warranty is another great thing about this mouse and the company is really good about replacing lost or damaged products.
I also love the ergonomic design of the mouse, which is good for my hand and wrist.
However, I would like to see some improvements in the software.
It makes a very small noise that is annoying at times due to which it's hard to focus on the task. There are some software issues with this mouse, and sometimes I'll lose the cursor when I'm using it.
The cursor tracking isn't always perfect and it causes some disconnects with the system. The weight of the mouse was heavy and I found it to be uncomfortable.