In this article, I will be reviewing Panasonic Lumix G Vario 12-32mm lens which I used on my Black Magic Pocket Camera with 4k features.
The Panasonic Lumix 12-32mm lens has been massively reviewed by many YouTubers across the globe.
It is a 12-32mm lens, which gives quite a good range to cover the scenes. The Lumix G Vario is an extremely compact zoom lens, which is super light in weight. This tiny lens gives great image results and it is extremely nice and easy to use.
Sale
Last update on 2023-09-08 | *Contains Affiliate links | *Images sourced from from Amazon
Here are Some Of the Clips I Recorded With My Blackmagic Pocket 4K.
I think it's very very nice image quality coming out of this small lens, and the lens stabilization in itself is actually quite impressive, seeing that it's very much needed on this Blackmagic 4K, as there is no built-in stabilization.
Panasonic Lumix G Vario 12-32mm – Specifications
| | |
| --- | --- |
| Attribute | Specifications |
| Lens Mount | Micro Four Thirds |
| Angle of View | 84° to 37° |
| Minimum Focus Distance | 7.87″ / 19.99 cm |
| Close Up Magnification | 0.13x |
| Optical Design | 8 Elements in 7 groups |
| Diaphragm Blades | 7, Rounded. |
| Image Stabilization | Yes |
| Dimensions | 2.19 x 0.94″ / 55.5 x 24 mm |
| Weight (Packaging) | 0.25lbs |
| Box Dimensions (LxWxH) | 3.7 x 3.2 x 2.4″ |
Features of Panasonic Lumix G Vario 12-32mm
Image Stabilization
The lens stabilization is immaculate which gives away amazing image results. The Panasonic 12-32 mm has a fairly fancy name, the "mega OIS (optical image stabilizer)" on the front, implying that it has a built-in image stabilization system. Given the small size of this lens, Panasonic's inclusion of image stabilization is a significant accomplishment.
The first thing that sticks out is that a photograph that is taken at 1/50 second shutter speed with no image stabilization already benefits from image stabilization. Because there is no viewfinder, you must hold the camera with more or less straight arms, which is less stable than shooting with a viewfinder, which allows you to support your elbows on your torso.
Manufacturing
Since it is light in weight (weighs only 70 grams), the lens is really easy to use, fits inside the camera, and is easily adjustable too. It is a zoom lens that gives a true wide-angle to the scenes being captured. The Panasonic Lumix comes with a Micro Four Thirds (MFT) mount.
The MFT is a camera system which means the gear has a mirrorless, interchangeable lens. This makes the gear extremely versatile and meets multiple needs of photographers and videographers. Hence, the lens' MFT mount is like a cherry on top. One of the greatest advantages of the MFT system is the greater depth of field with a small sensor.
The Panasonic Lumix G Vario certainly qualifies to be an amazing gear to be used in cameras for family pictures, but it is definitely not recommended for professional use. The tiny one lacks a focus feature, which is definitely a con for professional cinematographers.
Moreover, it is a highly dependable lens for family events because it is so small and easy to use. You can easily carry it in your handbag while traveling because it is the optimal travel size lens.
Brightness, Aperture, Zoom Range
The Panasonic Lumix 12-32mm was initially introduced for the Lumix GM1 pocketable camera, but it is now available for sole purchase as well. Its brightness is similar to the previously released version – the 14-42mm kit lens.
The broad-angle lens aperture is f/3.5, while the telephoto lens aperture is f/5.6. Because this lens is so small, a mirrorless system camera virtually becomes a compact camera with it.
Since the lens is highly compact and becomes collapsible, it misses out on the focus ring, which makes it a little less appealing, but this one has optical stabilization in it.
The lens gives sharp image results and the wide lens provides a large field of view.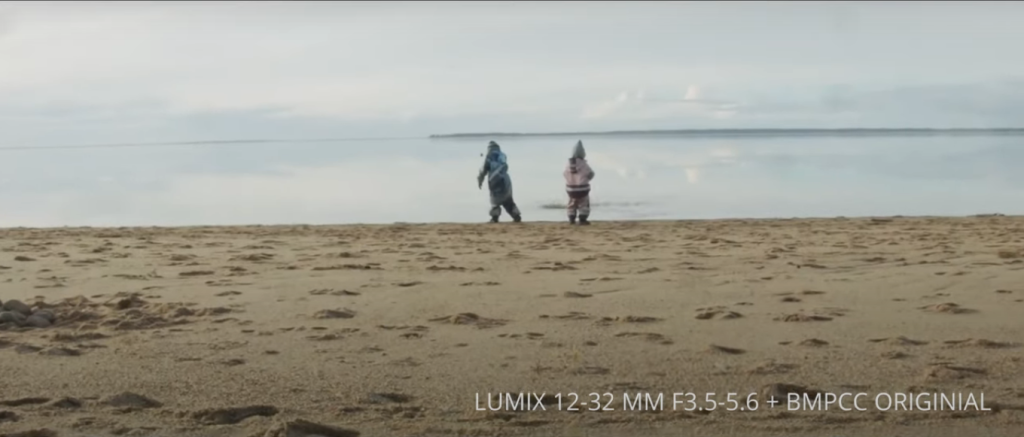 The 12-32mm has a 24-64mm full-frame equivalent field of view, which puts it in the wide-angle to long standard-angle category. It's a little wider than most MFT kit lenses, but it lacks the telephoto reach; they're typically 14-42mm designs. The 12-32mm is only 0.9 by 2.2 inches when compressed. The compact, sleek lens weighs 2.5 ounces and has front filters that are 37mm in diameter.
Bokeh
The Panasonic Lumix G Vario 12-32mm lens has a sluggish maximum aperture and restricted telephoto range, the 12-32mm does not produce a lot of background blur, however, some separation is possible.
It's difficult to get good bokeh out of a kit zoom… Well, tbh, only a few of these lenses have been seen doing that, and the 12-32mm isn't among them. With this size and zoom lens, the Panasonic Lumix gives a fairly reasonable bokeh. Its seven-blade rounded diaphragm aids the bokeh quality.
Color, Contrast, and Chromatic Aberration
Throughout the zoom range, the 12-32mm creates images with beautiful rich color and good contrast. The visuals are sharp and have a punch to them. Unfortunately, it has a little bit of the sterile rendering that many kit lenses have, but the strong color and contrast provide a solid starting point for further post-processing.
One thing that definitely makes it a winner for me was how little chromatic aberrations the lens produced. While it is not fully free of CA, it is extremely minimal and may be easily fixed in post-processing.
Distortion, Flare, and Vignetting
Another winning selling point about the 12-32mm lens is that it also has excellent distortion control. At wide-angle, distortion is low, while at longer focal lengths, distortion is non-existent. Panasonic, without a doubt, uses firmware corrections, and it's hard to tell what the optical distortion levels are without looking at the photographs in a RAW converter that doesn't use them.
Anyhow, due to the great edge sharpness, I am less concerned about whether the distortion is optically rectified or the consequence of software manipulation, because, at all apertures and focal lengths, the 12-32 showed low vignetting.
Ease Of Use
When you switch the lens to shooting mode by turning the zoom ring past the click mark (the 12mm setting), the lens enlarges dramatically, revealing that it has a dual-cam design (two inner lens tubes).
This one is a star when it comes to practicality. When you have to move in and out of the collapsible position, you do not have to press the lock button, so it saves you time and the hassle of finding the lock button.
The Panasonic lens has a metal mount, and the body is made of plastics but it seems a lot more solid than its competitors.
Here is a Footage Recorded With the Blackmagic Original
One drawback!
The one drawback about this lens is that there is no focus ring.
And the Blackmagic pocket cinema camera original and the Blackmagic 4K has no continuous autofocus, and not a really good auto focus button, so I have to keep relying on the focus button on this to actually focus on things.
That is why i would say this lens is not intended for professional use.
But but for family use at home, I'm going to use it much more than any other lens, because of how small and versatile it is.
It is my conclusion, that this lens is vastly underrated and it's great for personal use with the Blackmagic cameras.
I like range and I like that it's a stabilized and it's quite good stabilized compared to the price.
I think this is the cheapest stabilized lens you'll get for the Blackmagic 4k and the Blackmagic original with the (MFT) micro four thirds mounts.
If you're not a pro user and just want record great movies at home, you should really consider getting this lens as one of the first lenses for the Blackmagic 4K.
Some Interesting Aspects
Here are three interesting features which make this lens outshine others:
Since it is a pancake zoom lens, it gets extremely compact and adjustable when it is in transport mode.
It has a field of view that is equivalent to "24-64mm" in full format terms.
Panasonic's website has some fairly bizarre MTFs (contrast and resolution characteristics).
This is what makes this tiny package one hell of a beast when it comes to functionality.
7 Pros of Panasonic Lumix G Vario 12-32mm
The zoom kit lens gives extremely sharp results which is why it is a keeper and I'm definitely a fan of its image quality.
The sharpness remains intact throughout the zooming range.
The Panasonic Lumix has controlled Chromatic aberration (CA). CA is the failure to focus effect caused by the refraction of distinct wavelengths of light through slightly varying angles.
Another of this lens's strongest assets, like its sharpness, is distortion. While there is some distortion at 12mm (less than 0.5 percent), it is almost non-existent at 14mm and beyond.
The Panasonic 12-32mm Autofocus (AF) mechanism employs an inner focus drive system and stepping motor that is nearly silent (ideal for video shooting) and quickly focuses. The focusing from the minimum focus distance to infinity took less than one second. The autofocus is rapid, accurate, and readily latched onto subjects with no hunting.
Between 12mm and 20mm, the lens' minimum focus distance is 20cm, but it rises to 30cm at longer focal lengths, making this lens appropriate for shooting in small situations at short focal lengths.
Since it is extremely light in weight, you can shoot with it with one hand only.
8 Cons of Panasonic Lumix G Vario 12-32mm
It is entirely built for autofocus and the manual focus is slow and awkward.
The body is made of plastics, which makes the quality cheap.
It is so light that you fear dropping it by accident.
It has a little high contrast.
It is prone to purple fringing and has softness issues.
One of the biggest downsides to this lens is that its image quality gets distorted at a wide-angle.
Also, it is a little bit on the pricier side.
The aperture speed is too fast but given its size, the speed cannot get better than this.
Conclusion
Despite the minor drawbacks, the Panasonic Lumix G Vario 12-32mm lens is a gem and I will definitely keep it for long-term use. With this size and MFT feature, this lens is a winner and the image results are so sharp that you stay in awe of them for a long time. Being a zoom kit, this tiny beast shows the supreme quality and I'm super happy with it.
After all, you need to weigh your requirements, budget, and expectations and then go for a system that fits your criteria. Being so light and tiny, you can take it anywhere without having to worry about the space and baggage restrictions. All in all, I would recommend this beauty to everyone.
Recommended Accessories For Panasonic Lumix G Vario 12-32mm
Tiffen 37mm UV Protector Filter
The Tiffen 37mm UV Protector Filter is a transparent, general-purpose filter that absorbs ultraviolet radiation and reduces daylight's bluish cast. When photographing at high elevations or near bodies of water, this filter comes in handy. There is no additional coloration or contrast, allowing you to mix and match this filter with others.
The UV filter can also be used as a general protective lens that should be worn at all times. Filters help to keep dust and moisture out of your lens element while also providing extra protection in the event of drops or scenarios where scratching is a possibility.
You can find it here:
Sale
Last update on 2023-09-09 | *Contains Affiliate links | *Images sourced from from Amazon
Ruggard RC-P18 Rain Cover for DSLR with Lens up to 18 (Pack of 2)
Ruggard's 2-pack RC-P18 Rain Cover for DSLR with Lens up to 18 inches is ideal for photographers who prefer to shoot when it's pouring. Each cover is designed to protect your DSLR and lens from water, dust, dirt, and mud in an easy-to-use manner.
A DSLR with a lens up to 18″ long and 7″ broad will fit within the cover. Drawstrings secure the openings in the plastic cover for your camera and lens. The cover offers ample room for your lens hood as well.
By first inserting your camera/lens combination within the cover and then placing the entire assembly over your tripod, the cover can be tripod-mounted. The see-through design allows you complete access to the controls and viewfinder on your lens and DSLR.
The pre-cut viewfinder hole on the outside of the cover allows you to attach your camera's rubber eyecup. Even in inclement weather, this ensures optimal viewfinder clarity.
You can find it here:
Last update on 2023-09-09 | *Contains Affiliate links | *Images sourced from from Amazon
Sensei Microfiber Lens Cleaning Cloth (Gray)
With this grey Microfiber Lens Cleaning Cloth from "Sensei", you can easily clean your glass and camera lenses, television displays, computer monitors, binoculars, and more without fear of damaging them. This useful device can also be used to clean dust or smudges from CDs, DVDs, and Blu-ray discs.
The soft microfiber fabric won't harm glass or other delicate surfaces, and it cleans without leaving a streak.
The cloth has a rough rubber dot covering on one side to provide you with a better grip and prevent the cloth from slipping out of your hand. Additionally, because the fabric is about 18% grey, it might help you calibrate the white balance on your camera.
The cloth is little, measuring only 7 x 7.9″, and can easily be carried in a pocket, pouch, or backpack. It can also be machine washed in cold water on a moderate cycle and reused.
You can find it here:
Sensei Microfiber Lens Cleaning Cloth (Gray)
Soft Microfiber Won't Scratch Glass | Wipe Lenses/Screens/Binoculars/Glasses
Textured Rubber Covering for Secure Grip | Approx. 18% Gray to Help with WB Setting
Small, Travel-Friendly Size
Last update on 2023-09-09 | *Contains Affiliate links | *Images sourced from from Amazon
B+W 37mm Circular Polarizer SC Filter
By filtering out light that has become polarized owing to reflection from a non-metallic surface, the B+W 37mm Circular Polarizer SC Filter helps to eliminate reflections and glare. As light from the sun bounces off electrons in air molecules, it becomes partially polarized and scatters forming what appears to be haze.
A polarizing filter aligns and filters this directionally polarized light perpendicular to the reflected light, allowing much of it to be absorbed. This causes a considerable reduction in glare and reflections from non-metallic objects, as well as an increase in the sky and plant saturation.
The main difference between a circular and a linear polarizer is that a quarter wave plane is included in addition to the linear polarizing filter. The addition of this quarter wave plane allows the linearly polarized light to be circularly polarized for autofocus and exposure operations.
You can find it here:
B+W 37mm Circular Polarizer with Multi-Resistant Coating 66-1069182
This filter uses our standard B+W F-Pro filter mount, which has a front accessory thread and is made of brass
MRC by B+W is not only an extraordinarily effective multiple layer coating, it is also harder than glass, so that it protects filters from scratches, and it is also water and dirt repellent, thus facilitating filter maintenance
Manufactured from Water-White Schott Glass
Last update on 2023-09-09 | *Contains Affiliate links | *Images sourced from from Amazon
Sensei Cap Keeper Lens Cap Holder
Sensei Cap Keeper Lens Cap Holder keeps your lens cap near to reach so you don't lose it. The holder has an elastic band on one end that secures the lens barrel, and the adhesive-backed disc on the other end secures the lens cap. While shooting, the cap is connected and may be simply recovered when you're done.
You can find it here:
Last update on 2023-09-09 | *Contains Affiliate links | *Images sourced from from Amazon