Greetings, photography enthusiasts!
Today, I'm bringing to you a detailed review of a product that has piqued my interest – the Rick ct20 tripod.
It's a compact, well-built and affordable tripod that promises to add versatility to your photography sessions. So, let's dive into the specifics as I discover the ins and outs of this exciting piece of equipment.
Here's my complete video review if you want to check out:
| | |
| --- | --- |
| Attribute | Specifications |
| Compatibility | Cameras with 1/4″-20 and 3/8″-16 threads, DSLR cameras, action cameras, mirrorless cameras, mobile phones, projectors |
| Material | Aluminum |
| Column Legs | 4-section |
| Quick-Release Flip-Locks | 3 |
| Working Height | Adjustable from 18.5″ to 78.7″ |
| Folded Size | 19.6″ |
| Central Pole | Invertible for low-angle shooting and macro photography |
| Ball Head Diameter | 36mm |
| Ball Head Rotation | 360° |
| Max Load | 33 lbs (15 kg) |
| Tripod Weight | 3.46 lbs |
Sale
SmallRig 78" Camera Tripod, Foldable Aluminum Tripod & Monopod, 360°Ball Head Detachable and Quick Release Plate, Payload 33lb, Adjustable Height from 18.5" to 78" for Camera, Phone - 3474C
COMPATIBILITY: This tripod camera is universally compatible with all cameras and equipment with 1/4"-20 and 3/8"-16 threaded holes, such as DSLR cameras, sports cameras, and mirrorless cameras. It can also be used with mobile phones and projectors. Note: For cameras with a telephoto zoom lens, you will need to purchase a tripod mount ring or telephoto lens bracket for better balance.
2-IN-1 TRIPOD & MONOPOD: The aluminium tripod can be easily transformed into a monopod or walking stick, making it an ideal companion for hiking or travelling. The central pole can be inverted to allow for low-angle shooting and macro photography. The 4-section column legs with 3 quick-release flip-locks allow you to adjust the working height from 18.5" to 78.7" in seconds. The folded 19.6" of size makes it easy to take anywhere for outdoor photography.
36MM BALL-HEAD: Compared to other ball heads with a diameter of less than 36mm (for example, 28mm,22mm), a 36mm head can provide better stability. The specially designed 36mm metal ball head can rotate 360°, allowing you to take photos at any angle horizontally and vertically. Additionally, the ball head of the tripod is detachable, thanks to the double-headed screw design on the top of the tripod, making the panoramic tripod compatible with 1/4"-20 and threaded holes ball head or fluid head.
Last update on 2023-11-11 | *Contains Affiliate links | *Images sourced from from Amazon
First Impressions
Upon receiving the package, the first thing that grabbed my attention is the compact nature of this tripod. Made from sturdy aluminum, it's a combination of a tripod and monopod, featuring a fluid head that ensures smooth movements and transitions for your camera.
What's impressive is that this sophisticated tool doesn't break the bank. It's priced under $100 – I managed to snag it for approximately $75.
As a long-term fan of the Small Rig brand, I had high expectations from this tripod.
Small Rig has built a reputation for delivering quality products that don't require you to splurge, and I was eager to see if the Rick ct20 tripod lived up to this standard.
What's in the Bag?
Unboxing a new product is always thrilling, and the Rick ct20 was no exception. The bag it comes with seems deceptively tiny for a tripod.
In my experience, fitting tripods back into their bags can be a struggle, akin to wrestling a tent back into its sleeve. However, this one seemed different, promising a hassle-free experience.
Upon opening the bag, I found a few unexpected surprises:
A mount for smartphones: This is a fantastic addition considering the increasing trend of mobile photography and videography. Whether you're a vlogger filming for your YouTube channel or a photographer capturing landscapes, this mount can be a game-changer.
Two plates: This might seem like a minor detail, but having two plates is incredibly convenient. It means you can mount them on two different devices, eliminating the need for constant changes.
The extras in the bag are a testament to the thoughtfulness of Small Rig in providing value to their customers.
Quality and Functionality
One of the most critical aspects of any photography equipment is the quality. The Rick ct20 tripod does not disappoint me.
The moment I hold it in my hands, the sturdy feel and quality craftsmanship are evident. It doesn't feel like cheap plastic; instead, the aluminum body gives it a robust and durable feel while ensuring it remains lightweight for easy portability.
Setting up this tripod is a breeze. The legs easily swivel around and click into place when extended.
The process is intuitive and quick, which means I can focus more on getting the perfect shot and less on wrestling with your equipment.
The Head of the Tripod
Let's turn our attention to the head of the Rick ct20 tripod. It features a small screw, which you can use to make various adjustments. This precision allows you to turn your camera to the exact degree you desire, adding to the overall flexibility of your shoots.
One of the standout features for me of this tripod is the ball head. Two knobs enable you to loosen the ball head, facilitating the leveling of your camera.
Whether you're on an uneven trail capturing the beauty of nature or in a studio working on a professional shoot, this feature is a lifesaver when it comes to achieving that perfectly balanced shot.
Compatibility and Versatility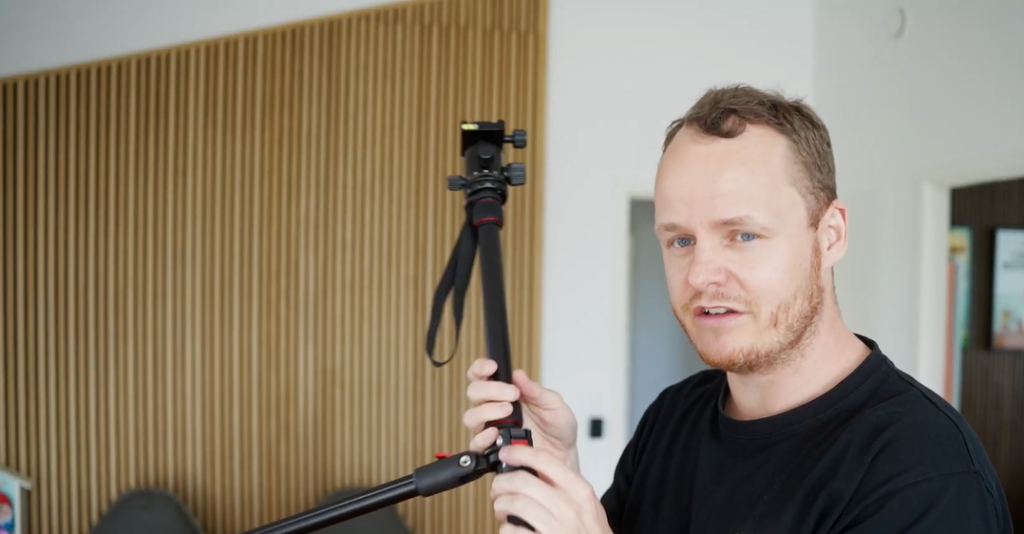 The Rick ct20 tripod shines in the compatibility department. The plate mount on top is compatible with the Falcon f-38 plates, which are ARCA Swiss sized, and the peak design plates.
This means that if you have a Peak design mount on your camera, it will slide effortlessly into this tripod.
But the versatility doesn't end there. This piece of equipment isn't just a tripod, I found that it also transforms into a monopod.
One particular leg, marked with foam, can be easily dismounted and attached to the ball head to serve as a monopod. This feature is incredibly useful when you're on the move and need a lighter, more portable option.
Or perhaps you're in a crowded space where a tripod would be cumbersome. Either way, the Rick ct20 has got you covered.
Additional Features
Another feature that sets the Rick ct20 tripod apart is its ability to be mounted upside down. This is particularly useful when you want your camera to be closer to the ground for those low-angle, dramatic shots.
With its extendable legs, you can adjust the height to your liking, getting as close to the ground as you want.
The legs can also lock in three different positions, providing even more flexibility. The third position allows you to get your camera very low to the ground, a feature not found in many other tripods in this price range.
To add more stability, especially in windy conditions or uneven terrain, there's a hook at the bottom of the tripod.
This can be used to hang a sandbag or your camera bag, providing a counterweight to stabilize the tripod.
Comparisons and Conclusion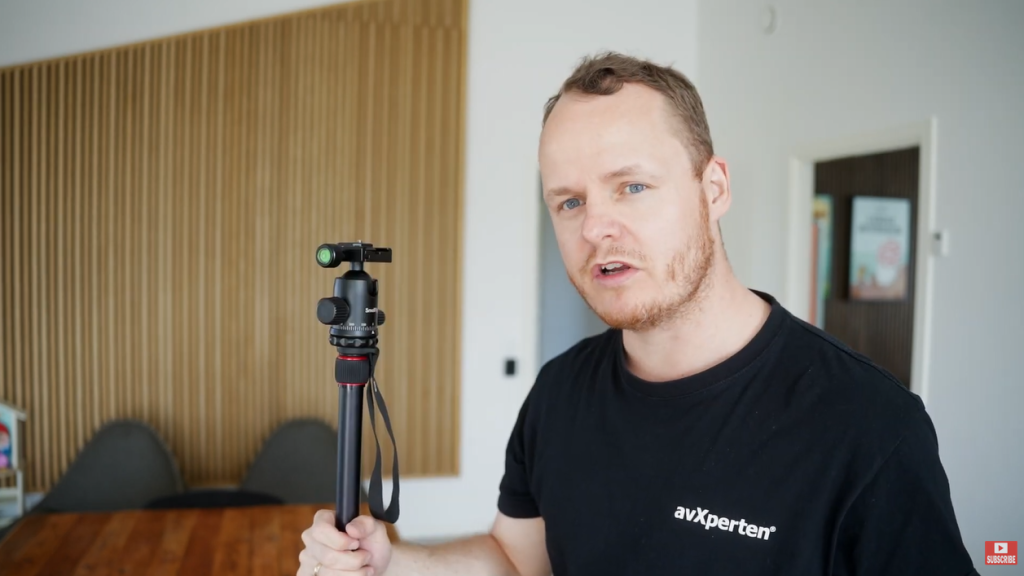 Compared to other tripods I've used, such as the larger video tripod from Siri, the Rick ct20 stands out due to its portability and versatility.
While the Siri is excellent for larger video cameras and has a fluid head, it's not as convenient to carry around, especially if you're hiking up a hill or navigating a busy city street.
The Rick ct20, with its compact size and dual functionality as a monopod, offers much more convenience without compromising on functionality.
In my opinion, the Rick ct20 tripod offers excellent value for money. The quality, the thought put into the design, the functionality, and the versatility make it a great addition to any photographer's gear.
Whether you're a professional photographer, a hobbyist, or a vlogger, this tripod can help elevate your work and allow you to capture your visions with ease and precision.
I look forward to using the Rick ct20 tripod more in my photography journey and sharing the results with you. Remember, if you have any questions about this tripod or any other photography-related questions, leave them in the comments below. I'm always here to help.
FAQs
Can the SmallRig CT-20 be used as a monopod?
Yes, the SmallRig CT-20 can be easily converted into a monopod or walking stick, making it a versatile choice for various photography needs.
Do I need to buy a separate mount ring for cameras with a telephoto zoom lens?
Yes, for cameras with a telephoto zoom lens, you will need to purchase a tripod mount ring or telephoto lens bracket separately for better balance.
Can I use the SmallRig CT-20 for hiking or traveling?
Yes, the SmallRig CT-20 can be easily turned into a monopod or walking stick, making it a great companion for hiking or traveling.
Can the SmallRig CT-20 tripod be used for macro photography?
Yes, the central pole of the SmallRig CT-20 can be inverted to allow for low-angle shooting, which is ideal for macro photography.
Thank you for taking the time to read this review. Here's to capturing the perfect shot!
PS: Happy shooting!