Hello everyone, today I will be comparing Blackmagic Pocket Cinema Camera 6K and 4K.
I own and cherish my Blackmagic 4K, and I have previously owned a Blackmagic pocket 6K
By the end of this review I will tell you which one I like better and why do I like it.
In order to do that, I will tell you first hand, what the specifications of both the Blackmagic Pocket cameras means to a user.
The Blackmagic Pocket Cinema Camera 6K and its smaller brother, the BMPCC 4K are two of the most best affordable cinema cameras in the market right now.
With the 4K version giving extreme affordability and the 6K offering great resolutions, and even the 6K Pro with super specs, all of the cameras are great offers for aspiring cinematographers.
I made this assesment before asking the community.
But as you can see, I am not the only one who thinks you get the least value for money on the BMPCC6K standard version.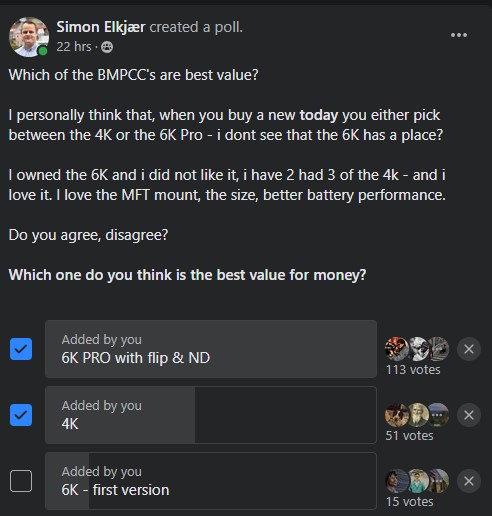 The community thinks the 6K Pro is most value, but honestly I think the MFT mount is better.
Why MFT-mount on BMPCC4K is a superior
You can get much cheaper (good) native lenses, like the Meike Cinema Lenses.
Go Anamorphic with SIRUI 50mm F1.8 Anamorphic Lens for Micro Four Thirds Mount APS-C at only $479.00
With a speedbooster from Viltrox or Metabones you can come closer to the "full frame" look, if you want.
You can get VERY adequate lenses, like this one for only $69.99
Read my post: Best Budget / Cheap Lenses for BMPCC4K
Blackmagic Pocket Cinema Camera 4K
When the Blackmagic Pocket Cinema Camera 4K was launched in 2018, it caused a stir because of its low price and extensive feature set.
The Blackmagic Pocket Cinema Camera 4K, is the cinema camera that catapulted the Blackmagic product line into the era of 4096×2160 quality movie projection (DCI 4K).
4K is perfectly adequate for filmmaking, and it is one of the finest options for the $1,000-$2,000 bracket.
Last update on 2023-09-09 | *Contains Affiliate links | *Images sourced from from Amazon
Weight And Size
When it comes to the size of the cameras, the word "Pocket" is certainly not made for them.
The Blackmagic 6K is chunkier than 4K. However, none of the cameras is pocket-sized, like their older brother the original blackmagic pocket from 2013.
The BMPCC4K weighs 680 grams, and its 6K sister is 218 grams heavier and 15mm deeper, but they look the same for the untrained eye. – and then there is the chunky bigger brother, the bmpcc6kpro weighing in at a whopping 1.24kg or 2.75lbs (the double of the bmpcc4k)
Beware: No Autofocus with Blackmagic
The 4K BMPCC has a focus feature enabled in it, which can be used in compatible lenses.
The focus is pretty easy to use, – However it is NOT continuous autofocus. only one-time, and some times it does not work.
If you are looking for a camera with autofocus, ibis: the blackmagic lineup is not for you – they are only made to be great cinema cameras – not point and shoot vlogging cams. (for that i really recommend and love Sony)
Lens Mount And Lens Control
The BMPCC 4K has an active Micro Four Thirds mount and I can control the Iris, ISO, focus, and zoom on compatible lenses with one single touch. It only took me a few moments to figure it all out.
Price & Value for money
One of the biggest selling points of this beauty is its price, which is super pocket-friendly. I mean I get the BMPCC 4K for $1295 only. – compared to the insane picture quality, this is an absolute steal!
The BMPCC4K comes in handy when I have to shoot on multiple cameras because it takes up far less disk drive storage space and gives a lot of bandwidth for streaming and on top of that, I can shoot on 1080p resolution. – but with a crop
Best Battery Life of all BMPCC's
Well, when it comes to small-sized cameras like the Blackmagic Pocket Cinema Camera 4K, I have to make a compromise on the battery life.
These cameras do not have much to offer in this regard, so I will have to make do with 60 minutes of battery life. I mean I try to take maximum benefit from this time. (if you don't want do rig your camera, then bring extra batteries)
60 mins is waaay better than with the 6k! – which does 30 minutes at best!
Other Specs, HDR & Screen
The BMPCC 4K offers 13 stops of dynamic range, which is pretty cool for a camera like this one. The 13 stops guarantee a high-quality image resolution and will satisfy your photography needs.
The 4K has 5" 1920 x 1080 dimensions and an LCD capacitive touchscreen.
Conclusion
The Blackmagic Pocket Cinema Camera has a lot to offer.
It has great usability and is so good, that noone, can ever ask for better image quality – only "Quality of life" and extra features.
Frequently asked questions about the BMPCC4K
Is BMPCC 4k 10 bit?:
The BMPCC4K is capable of recording 10-bit and 12-bit. With 10-bit 4:2:2 ProRes and 12-bit RAW recording. Both are done internally and on Cfast 2.0 or Fast SSD in lower resolutions
Is BMPCC 4k netflix approved?:
The BMPCC4K is not netflix approved camera. This does not mean that BMPCC4K can't be used in a movie featured on netflix. Both Logan (wolverine) and Spider-man no-way home have been credited using the BMPCC4K for recording.
Is BMPCC 4k full frame?:
The BMPCC4K is not full frame, but rather a 18.96 x 10.00 mm sensor – compared to a fullframe which have 36 x 24 mm. This makes the BMPCC4K a 2.02x crop factor.
Does BMPCC 4k have autofocus?:
The BMPCC4K does have a focus button, that can focus automatically. But this is not autofocus you can use to shoot continously or rely on in production.
Is BMPCC 4k mirrorless?:
The BMPCC4K is not technically a mirrorless camera, but rather a digital cinema camera. DSLR is a camera with optical viewfinder, where you look through the lens, and Mirrorless is a digital version with a digital viewfinder.
The BMPCC4K does not have a viewfinder, but besides this, it is the same and can be called a mirrorless camera.
What battery does BMPCC 4k use?:
The BMPCC4K uses a single Canon LP-e6 battery in the camera.
How long does BMPCC 4k battery last?:
This depends on how you are using the camera, and the weather conditions, but you can expect anywhere from 30 mins and up to 55 mins. In extreme cold i've seen the batteries die after 15 minutes.
Is the BMPCC 4k weather sealed?:
The BMPCC4K is not weather sealed.
What is BMPCC 4k native ISO?:
The BMPCC4K have Dual Native ISO. This means that both ISO 400 and ISO 3200 is the native iso of BMPCC4K
How to charge BMPCC 4k battery?:
You can charge the BMPCC4K battery inside the camera, while using the cable that is included in the package on purchase, but i recommend buying an external charger for the LP-e6 batteries.
How to connect BMPCC 4k to computer?:
You can connect the camera to your computer via a USB-C cable to transfer files, or to use as a webcam. There is also a full-sized HDMI-outlet on the BMPCC4K for connectivity.
How much does the BMPCC4K weight?:
The base weight of the BMPCC4K is 680 grams (1.5 pounds). But almost everyone rig the camera with extra items. With a cage from Tilta or Smallrig the weight is 1200-1400 grams (2.6 – 3.1 pounds). A full rig it is between 3.5-4.5 kg (7.7 – 10 pounds)
Blackmagic Pocket Cinema Camera 6K
Just like its 4K, the Blackmagic Pocket Cinema Camera 6K made waves in the film industry because one: it is a SUPER cheap 6K raw camera and two: it offers a great range of features and versatility.
Blackmagic Design Pocket Cinema Camera 6K with EF Lens Mount
Effective sensor size 23 10 x 12 99 millimeter (super 35)
Shooting resolutions 6144 x 3456 (6K) up to 50 fps/ 6144 x 2560 (6K 2 4 1) up to 60 fps/ 5744 x 3024 (5 7K 17 9) up to 60 fps/ 4096 x 2160 (4K DCI) up to 60 fps/ 3840 x 2160 (Ultra HD) Up To 60 fps/ 3728 x 3104 (3 7K 6 5 anamorphic) up to 60 fps/ 2868 x 1512 (2 8K 17 9) up to 120 fps/ 1920 x 1080 (HD) Up To 120 fps
Maximum sensor frame rate Dependent on resolution and codec selected Project frame rates of 23 98 24 25 29 97 30 50 59 94 and 60 FPS supported off-speed frame rates up to 60 fps in 6K 2 4 1 120 fps in 2 8K 17 9 and 1080H
Last update on 2023-09-10 | *Contains Affiliate links | *Images sourced from from Amazon
Weight And Size
The BMPCC 6K's body is 7 inches wide, 3.8 inches tall, and 4 inches deep, so it is not at all pocket-sized. Also, it is 898 grams heavy, so that would certainly require me a HUGE pocket to fit that one in.
No Autofocus either
Similar to the 4K, AF is not continuous The Blackmagic Pocket Cinema Camera cannot focus on the subject if it moves away from the frame.
This is a cinema camera, and not a selfie camera 🙂
Lens Mount And Lens Control
It has an EF mount which means I can easily fix Canon EF-S lenses on it. They have a great range and amazing optics as well. Similar to 4K, I can control the Iris, ISO, focus, and zoom on compatible lenses with one single touch. For manual Iris control, I use the touchscreen slider.
In my opinion, i like the MFT mount from the BMPCC4K better – it has a range of much cheaper lenses, like the Meike Cinema lenses i LOVE! – Read my post about it here: Meike Cinema Lens Review
Price
Like I said earlier, the Blackmagic Pocket cameras offer a super affordable price range and are some of the most competitive gadgets available in the market. I can get the BMPCC 6K for $1,995 only.
The BMPCC 6K has plenty to offer. I hardly found a fault in its video quality as it has a great resolution to offer to its operators.
Rolling shutter issues: BUT: For some people filming a lot of moving shots, the 6K has much more problems with rolling shutter, than the BMPCC4K have!
The BMPCC6K has the worst Battery Life of all BMPCC's
BMPCC6K says it will give you 45 minutes of battery time. But in reality it is more likely to be 25 minutes in my experience.
HDR
Well, the High-dynamic-range for 6K is the same as BMPCC 4K. This one also gives 13 stops with a super bright HDR quality. It offers a dual native ISO of up to 25,600 for excellent low-noise shots in any light.
Screen Dimensions And Screen Type
The 4K has 5" 1920 x 1080 dimensions and an LCD capacitive touchscreen. However, the 6K camera has a Super 35 (6144×3456) image sensor while the Pocket 4K has a full 4/3 (4096×2160) image sensor.
The larger sensor Super 35 is why many pick the 6K this feature was not important to me though.
Conclusion
The BMPCC 6K offers a wide range of amazing features but they're almost similar to the ones available in 4K, and that too, at a cheaper price. Therefore, rationally speaking, there's no point in buying BMPCC 6K when I can get the same specs at a lesser price.
IF you already have EF-S mount lenses the 6K is for you, otherwise the BMPCC4K is good enough (in my opinion)
I sold my blackmagic cameras, and if you want to know why.
Read this blogpost
5 Reasons I sold my My BMPCC 6K
If you want to see me talking, you can watch the whole video on my YouTube channel here:
#1 The Resolution
Well, honestly speaking I have fallen in love with another camera, and I'll certainly make a purchase. So, there are five reasons I have noticed that made me decide on selling off the 6K, with the first one being its resolution. This one has a really big resolution, and while this may sound stupid, this is nothing but true.
My PC cannot handle the monster 6K resolution, so I'd rather keep the PC than the Blackmagic pocket 6K. Now, you must be thinking that I could totally spec up my computer, but it already is super spec'd and there's no point upgrading it. I have a core i9 processor, 32Gb ram and a GTX 3060 ti – should be monster but davinci resolve is often quite bad optimized.
#2 The Physical Size
My second reason is the camera's size and weight. It is too big and too heavy.
No way near to being pocket-sized as the name suggests. Also, when I fix my Canon ef-s mount lenses onto it, the camera gets way too big and it isn't easy to carry around. I'd rather carry my Sony camera that is smaller and lighter with the lens included than the whole body of 6K.
#3 No Flip Screen
The Blackmagic Pocket Cinema Camera has no flip screen, I mean you have to be kidding me. For this camera, I need to buy another screen to be able to film at any other angle than straight forward.
Note: this is a issue with the 4K as well.
#4 Price
Well, you may think that the Blackmagic 6K is super affordable, but to make it a whole kit, you need to buy the battery grip and an ef-lens, and thats only the beginning of your rig.
Honestly, it is so expensive that I only want to keep it safe and not use it because I've spent a fortune on the 6K.
#5 4K Version Is Way Better Than The 6K Version
I have the Blackmagic Pocket Cinema Camera 4K version and I use it quite often because I absolutely love its utility.
I think it is way better than the 6K version.
The 6K is noisy while the 4K is completely silent
With 4K, I can work around with the LP-E battery only. It lasts me for at least an hour of filming.
However, with the 6K, I cannot go anywhere without the battery grip or bigger battery solution. I'm not going to rig it out because I'm not the rig kind of guy
Another thing is that the lenses that you use to mount on the 6K cameras are bigger than mft. I can fit a pocket-sized lens in the 4K, which is why they have been named that way.
The 6K itself – is larger than the 4K is with a small lens attached
I have also fallen in love with another camera and that is Sony ZV-1.
For me, it is the most underrated camera that exists right now. It shoots in 4K, it shoots 120 fps and 1080p. Its built-in microphone is better than most of the microphones I have bought for recording purposes.
Sony ZV-1 Camera for Content Creators and Vloggers with Vlogger Accessory Kit
Sony ZV-1 Digital Camera - NP-BX1/M8 Rechargeable Lithium-Ion Battery - Microphone Wind Screen - Strap - Sony 1 Year Warranty - Sony ACCVC1 Vlogger Accessory Kit with Wireless Bluetooth Grip / Tripod (GP-VPT2BT) and 64GB UHS-II SD Card (SF-E64/T1)
Vari-angle LCD screen, for selfie shooting with confidence
Directional three-capsule mic and a bundled wind screen
Last update on 2023-08-30 | *Contains Affiliate links | *Images sourced from from Amazon
Honestly, I love it so much that I'm gonna keep this setup and buy another one because it is so good.
Here's Why I Prefer 4K To 6K
I have already mentioned that I prefer the Blackmagic Pocket Cinema 4K camera to the Blackmagic Pocket Cinema Camera 6K because it is cheap, gives the same quality in terms of specifications, and is actually pocketable. The 6K version is just huge and the camera is too noisy.
The 6K version costs almost twice than the 4K version
Yes, I'm pretty aware that the 4K doesn't have the same shallow depth of field or resolution as the 6K, but it does have some excellent value lenses and is more cheap and compact.
The Micro Four Thirds lenses used by the Pocket Cinema Camera 4K are ideal for anyone coming from a Panasonic G-series or Olympus mirrorless camera, for example.
The 4K is a great value for money product because you get a ton of lenses to use with it and it comes at a price of close to $1,000 bucks only.
When it comes to capturing in low-light, the 6K is slightly better, but if I throw in speed boosters to the 4K camera, it shows phenomenal results and what more could I want from a camera that is sleek, sexy, and super affordable.
The only other option, than the 4K is the 6K PRO
BUT you could consider the Blackmagic 6K Pro if you want the larger resolution. The 6K Pro offer better battery solutions, better screen, viewfinder add-on and internal-ND
Last update on 2023-08-30 | *Contains Affiliate links | *Images sourced from from Amazon
In my mind there is only two cameras to choose between.
All in all, I hope you liked my review and will consider these points before making a new purchase.