I have had the Logitech G733 for about a year or so now.
The funny thing is, I initially bought it for myself, of course, but the headset was so tight on my head that eventually my 6-year-old son now uses it daily
In April, I ended up swapping out the G733 with the G435, and I made a video about it. You can watch it here:
The video lacks some depth that I am going to cover in this blog post. I am going to go through the pros and cons of the G733 in this blog post. I am also going to answer the most common questions about the Logitech G733, after 12 months of personal use, both by me and my son.
See, the problem I had with the headset when I bought it – that it was too tight – is actually not that big of a problem anymore.
One year of daily use by my son, and a lot of test use by me,
have made the clamp strength much less of a problem.
But then I discovered a headset called the Logitech G535 – and according to Reddit (yeah, I'm sorry, but yeah) the G535 and G733 were very similar, but the big thing they fixed was much less clampy and much lighter headset. Which was some of my main reasons that made the Logitech G435 superior. They even improved the battery life on the G535 even more.
So, I decided to get the G535 headset.
Watch my latest video including this headset
Amazon Links for all Headsets
I think the easiest way for me, to get in-depth with this logitech headset – in a way that i haven't already done on my YouTube channel is by answering questions
Pro's for Logitech G733
Logitech Wireless Lightspeed is world class – maybe even the best wireless technology currently on the market.
The microphone is both great, but also comes with software to manipulate and fine tune through the G Hub. It is also a directional mic, and comes very close to your mouth – and the rule of proximity helps the quality of the mic really good here.
The virtual surround system is very good – especially for consuming content, cinematic movies or even cinematic games.
It comes with RGB if you like that stuff
It is OKAY in terms of battery life.
You can use it while charging.
Cons for the Logitech G733
Compared to similar, but cheaper logitech models, like the Logitech G535 – you don't get that much more.
Its very tight and warm. Even at it's loose-fit mode, it fits my 6-year old son.
You can remove the microphone yes – but if you remove it, you un-attach it, and then you can loose it. Where as the G535 you just flip-it away. (this also makes it harder to store it in the drawer, with out removing the microphone)
It does not support Bluetooth
It does not work with 3.5 mm jack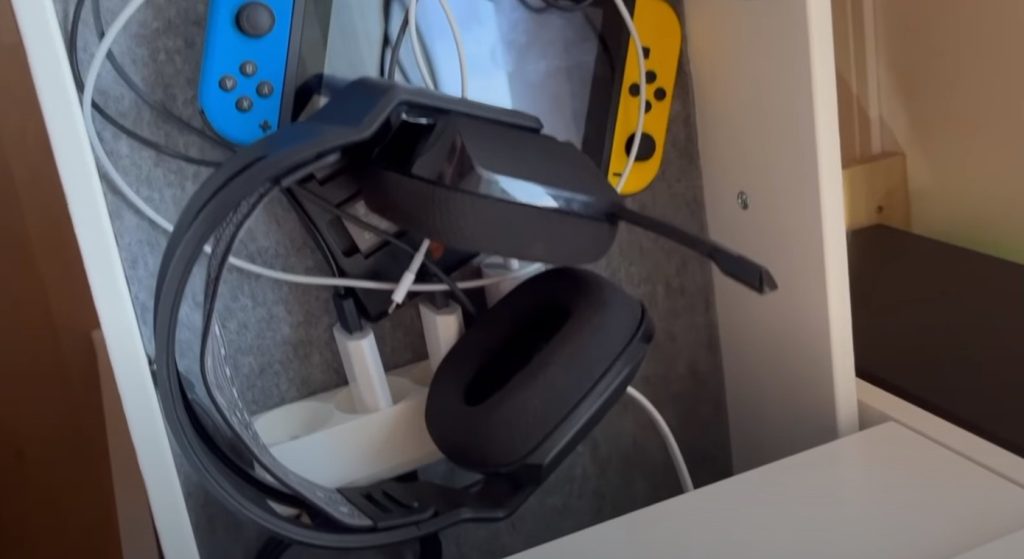 FAQ about the G733
Is Logitech G733 Worth it?
Honestly, and this is totally a personal opinion, I think Logitech is the best company in gaming headset and mice. But this headset – to me – feels like it just does not hit the perfect mark. The audio in this headset is just world class, and just as good as the Apple AirPods Max. The Logitech G hub makes it easy to adjust the way you like it.
But the G535 also has the G hub stuff – I KNOW that the G535 does not have "surround sound," but I don't need that for gaming. The fact is, for content creation and editing videos, I prefer the less over-bass sound and therefore the G535 is better.
For the price tag, and because the comfort is just not there, no, I don't think it hits the mark. If the comfort were perfect, it would have been better. But in the summertime, this headset was almost unbearable for me.
Is Logitech G733 Good for Gaming?
Yes, because of the Logitech Lightspeed connection. The Logitech G733 is one of the best gaming headsets in the world.
Does Logitech G733 have Noise Canceling?
The Logitech G733 does not have active noise canceling, but it has something called passive noise canceling – which is just a way of saying they are snug and the tight fit is supposed to immerse you enough to block noises.
The thing is, ANC is only needed for a headset you use when walking around or if you are in a noisy environment – this headset is for gaming at home on your computer.
Does the Logitech G733 have 7.1 Surround sound?
I am inclined to say no. Because 7.1 surround sound means 7 speakers and 1 subwoofer – but Logitech G733 has something called virtual surround or DTS – it works, i was surprised because off course it is not real surround – but wow it does sound like it.
How long does G733 last?
They are sturdy built, and after a years use by a 6-year old and testing by me, they suffer no damage nor defects at all.
Does Logitech G733 have Blue Voice Technology
Yes, the Logitech G733 does come with the Blue Voice technology for G Hub
Can I Use Logitech G733 Without Dongle?
No, you can't use the Logitech G733 without a dongle, as it does not work with 3.5 mm jack nor have Bluetooth built in
Does Logitech G733 have delay?
Lightspeed is considered one of the fastest wireless technologies in the world. Logitech's Lightspeed technology is not only 5x to 10x faster than Bluetooth, but it also boasts a 1ms speed which is faster than even some low-end wired headsets.
Can I Use Logitech G733 while charging?
Yes, you can charge your headset via the USB-C cable while gaming, my son is doing that all the time, because he simply forgets to charge it otherwise.
How long does G733 Battery last?
it is supposed to last 20 hrs with RGB and 29 hrs without RGB – i'd say it doesn't its more like 2 whole workdays, the third workday and sometimes on the second, it'll tell you to recharge.
Can you connect Logitech G733 to a Phone?
No, you cant use the Logitech G733 with a phone, because it does not support 3.5mm jack, nor have a bluetooth function built in.
Does Logitech G733 have a good mic?
Logitech G733 is equiped with one of the best quality on-board microphones for a gaming headset in its price range – and together with the blue voice technology you have great audio.
Logitech G733 Specifications According to Logitech G's own website.
| | |
| --- | --- |
| Product | Specs |
| Length | 7.64 in (194 mm) |
| Width | 7.48 in (190 mm) |
| Depth | 3.27 in (83 mm) |
| Weight | 9.81 oz (278 g) |
| Driver | PRO-G 1.57 in (40 mm) |
| Frequency Response | 20Hz-20KHz |
| Impedance | 39 Ohms (passive), 5k Ohms (active) |
| Sensitivity | 87.5 dB SPL/mW |
| | |
| --- | --- |
| Microphone | Specifications |
| Pickup Pattern | Cardioid (Unidirectional) |
| Size | 0.24 in (6 mm) |
| Frequency Response | 100Hz-10KHz |
| Wireless range | Up to 65.62 ft (20 m) 1May vary based on user and computing conditions |
| Connection Type | LIGHTSPEED wireless via USB |
| | |
| --- | --- |
| Use case (50% volume) | Battery life |
| No lighting | 29 Hrs |
| Default lighting | 20 Hrs |