I am not going to say that the Elgato Low Profile mic arm is necessarily better for you, but it is better for me, and I am going to tell you why.
First I'd like to say that the Røde PSA1 is maybe one of the best microphone arms on the market. I opted to change my arm mainly due to aesthetics and the specific way I wanted to use it.
I have used the PSA1 for years, and I have owned 3 so far. It has never given me any problems until this point. So now, I'm going to go over the pros and cons for the PSA1 and then for the LP arm.
If you want to find out more about why the Røde PSA1 isn't my favorite, you can also watch my review here:
In this article, I'll compare Rode PSA1 and Elgato Mic Arm LP, and their specs and will give my verdict.
Stay tuned!
Røde PSA1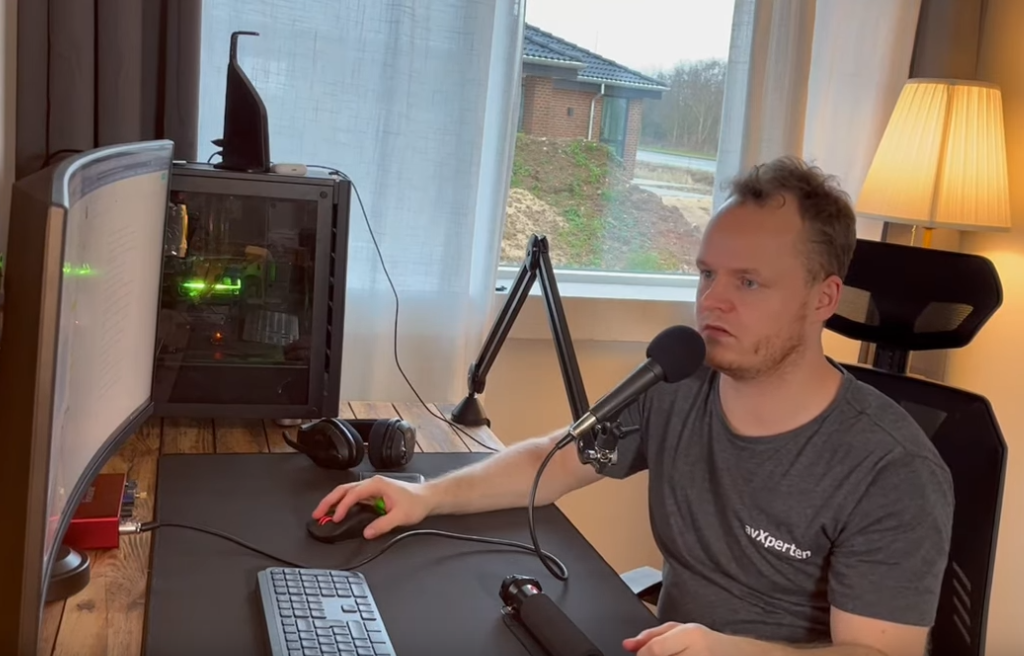 | | |
| --- | --- |
| Attributes | Specifications |
| Thread Size | 3/8″ |
| Weight (g) | 1740 g |
| Horizontal Reach (mm) | 820 mm |
| Vertical Reach (mm) | 840 mm |
Starting with the Australian-based sensation, the Røde PSA1 has taken every podcaster's life by storm. Its arm has specifically become quite a common product for anyone who plays games or streams in general.
The Røde PSA1 is a sturdy arm handle whose main purpose is to uphold the heavier mics in the game. It provides a strong desk clamp which helps it do so. This, in turn, allows you to get ample height and reach, which normal floor stands cannot.
The first thing you'll most likely notice is the high tension and flexibility the arm has. Plus, its vertical reach is also to die for. The arm is secure on your wall and is a space-effective way to have a mic arm.
If you ever wish not to use the arm you can just swivel it back to its original place and have your entire workstation free.
RODE PSA1 Swivel Mount Studio Microphone Boom Arm
Broadcast-style Professional Studio Desk Boom Arm with Stard Microphone Threading
Includes two desk mounting options
Durable design and noise-free operation is suitable for home, office and studio use
Last update on 2023-11-30 | *Contains Affiliate links | *Images sourced from from Amazon
Røde PSA1— Pros
The arm is very strong – and it has a reliable, sturdy build. I had 3 of these for a podcast studio, and they swiveled around for guests, which proved to be helpful.
They are easy to adjust with a screwdriver, and they can easily carry the Shure SM7B on the heavier end.
They could easily carry my Shure SM58 and my Røde NT-USB, and I also adjusted them to be used with very light shotgun mics.
Some are even using them to have a camera on top, even full-frame cameras, which this arm is fully capable of. This gives an extra feature that the arm is capable of.
Overall, I find the Røde PSA1 to be a reliable microphone arm, and even though it didn't quite run with it in the long run, I still find it a good addition to my set-up. 
Røde PSA1— Cons
This is subjective. But compared to the Elgato arms and the blue arm, I think they are desirably outdated.
It looks like an old lamp arm which is not very likable.
Next, this is what made me go buy the Elgato lp.
If you sit up against a wall, like I do, which most people do, then it can easily bang up against the wall and make some marks.
I even have a 7 cm clearance, and this was still a problem.
There's also a problem with the mount on the top. The problem arises because of the two screws which are placed on either side of the arm.
This makes it hard for the microphone to mount securely. Especially mics like the Shure SM7B, which has trouble swiveling.
Now I realize that it's not a big issue and most people can easily mount it in a way where it isn't an issue, but how I want to mount it made it an issue which made me less fond of the arm.
» You can also read my post: Top 5 Best Action Camera Microphone Attachments
Elgato Low Profile Arm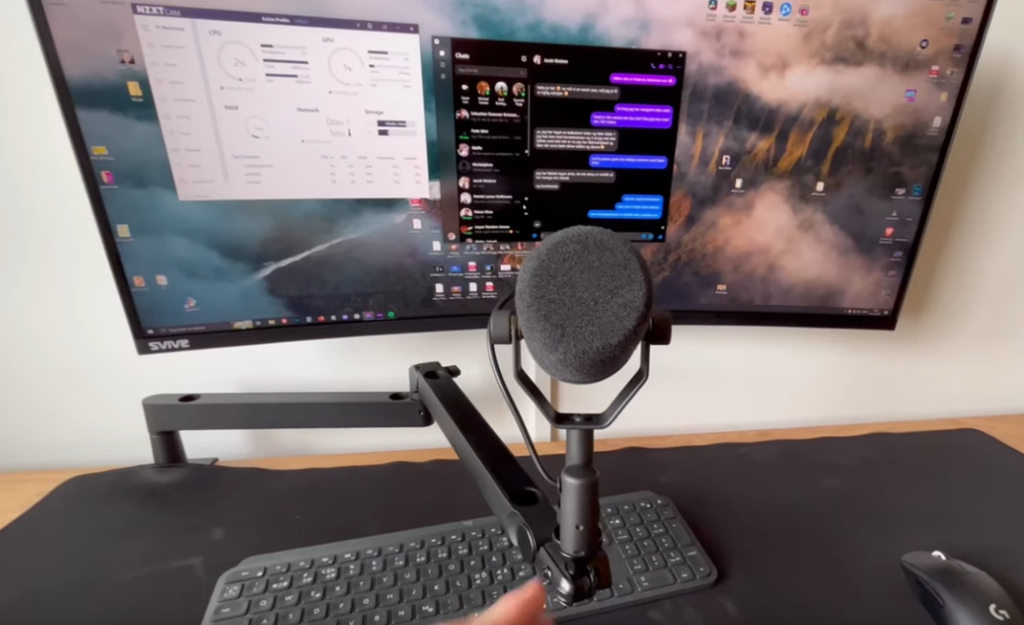 | | |
| --- | --- |
| Attributes | Specifications |
| Thread Size | 1/4″ |
| Weight | 1690 g |
| Horizontal Reach | 740 mm |
| Vertical Reach | 750 mm |
Moving onto the Elgato low profile arm, this piece is truly contemporary and a work of art, might I add. Designed to be low profile, this arm easily blends in with the rest of your setup, taking almost no space!
The Elgato LP is a studio workers' dream arm. It's perfect for your premium microphone and does its job pretty well.
For starters, the structure sits perfectly below the shoulder line. This way, it doesn't obstruct your view and is well near your mouth. 
The arm has a full 360° maneuvering, so you can adjust it at any angle you wish, and it'll stay there. Plus, it also has a 90° vertical rotation, further adding to its swiveling ability.
Last update on 2023-11-30 | *Contains Affiliate links | *Images sourced from from Amazon
Elgato Low Profile Arm — Pros
It has built-in cable management. This and the unique design simply make it much more minimal and clean (in my opinion).
I find the minimalist design a big perk as it gives a clean look on my desk, and I don't have to untangle the mess of chords afterward.
This saves me the hassle and turmoil of the mess I'd have using any other arm.
It has magnetic cable trays and does not require a screwdriver to install and use it.
The good thing here is that it has magnetic thumb screws, which are easier to handle; they don't loosen at all and can easily be adjusted by changing the screw's position. 
It fits better (for me) with the Shure SM7B — but I know that this is not a problem for many creators. However, I do find this a big perk of the Elgato arm, and it has honestly been heaven for me when using it.
The Shure SM7B easily slots into the arm, and it feels like it was practically made for the Elgato arm.
Overall I think what really makes the Elgato low profile stand out is the marvelous design of the arm. The way it easily attaches to my wall and slips front and back is really a beauty to see. 
It easily folds up onto my wall and sits snugly under my monitor, which is convenient with a single swipe.
In the end, the Elgato meets all the requirements I had wanted for my microphone arm and provides me with exactly that. 
» Maybe this also could be of interest to you: Logitech G435 Lightspeed Review (video & microphone test)
Elgato Low Profile Arm — Cons
The strength of the arm, more so the tension, is not as spring-load strong as in the PSA1. That being said, I had to tighten the screw with all my power and effort in order to hold up the Shure SM7B.
I know I'm not the strongest person out there, but there will definitely be many people that'll have a hard time securing their mics.

The first morning after I installed it had sagged all the way to the table. That's how I noticed, and these are only Thumb Screws.
Unfortunately, the arm doesn't have enough strength to hold the tension of the mic.
Another con is that when the mic is being swiveled around, the magnetic bars sometimes rise up due to the maneuvering.
Now, I haven't experienced this inconvenience yet but intentionally moving the mic made me have the same effect.
Maybe in the future, I will have this same effect, but for now, that isn't the case.
Wrapping Up
The thing with Røde PSA1 is that even though I did not like it function-wise, it's a pretty popular product, so it'll be fairly easy for me to sell.
Believe it or not, but I've already bought and sold two, and as for the one I currently own, I'll sell that too. 
Other than its sales aspect, I did find the Røde PSA1 to be a bit hyped, or maybe it is my choice of microphone that's hindering my views.
Regardless, this review was entirely an opinion, and in no way does the same have to apply to everyone. I just wanted to share my own reviews about the two microphone arms so that it gives a gist of what you'll get.